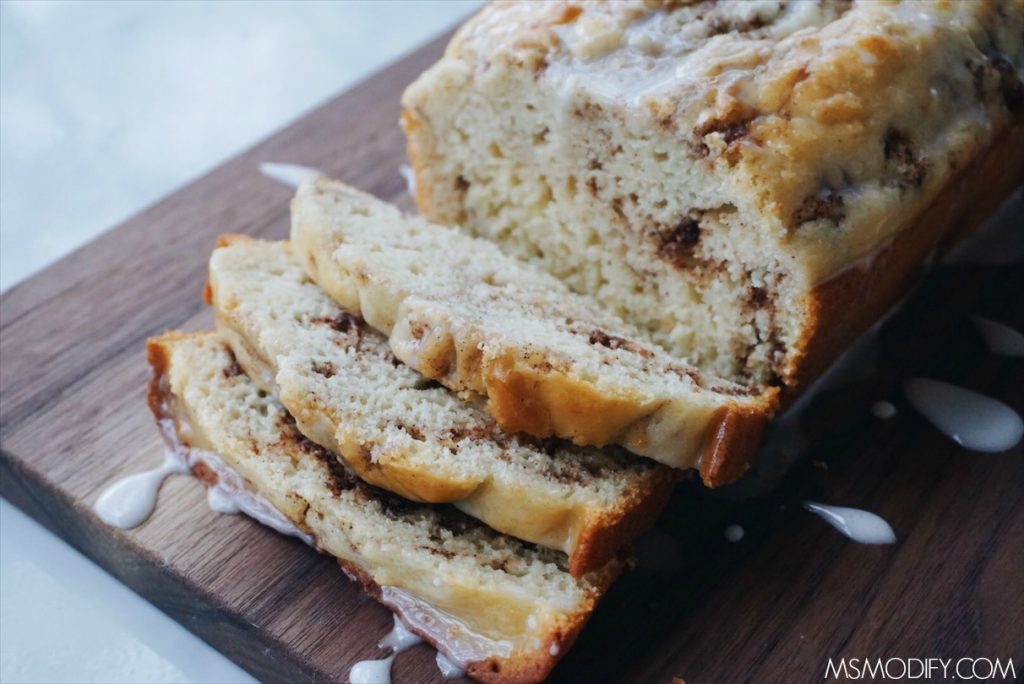 Ever since getting diagnosed with Celiac disease, I always play this game with myself that I like to call "gluten pass"… it goes something like this… if I were to get a gluten pass where I could eat anything and I wouldn't get sick, I would eat ____". It always ends up with a list similar to: croissants, Costco pizza, In N' Out cheeseburger WITH bun, Greek spinach pies in filo "spanakopita", and Cinnabon. My list changes from time to time, but without a doubt Cinnabon ALWAYS makes the list!
You guys, this cinnamon roll bread literally is soft and fluffy like bread, but has the cinnamon roll inside and tastes like Cinnabon! It's the perfect treat for breakfast, dessert or even a snack!
Ingredients:
For the Bread:
2 cups gf flour (I used Cup4Cup as always)
1 Tbsp baking powder
½ tsp salt
¾ cup sugar
1 egg
1 ½ cups milk
1/3 cup Greek yogurt
1 tsp vanilla
For the Swirl:
1/3 cup brown sugar
2 Tbsp melted butter
2 tsp cinnamon
For the Glaze:
½ cup powdered sugar
2 Tbsp milk
Instructions:
Preheat oven to 350 degrees. Grease a 9 inch bread pan and set aside.
Mix sugar, egg, vanilla, Greek yogurt, and milk in bowl until combined. Then stir in dry ingredients until evenly mixed.
Prepare the swirl by mixing brown sugar, butter and cinnamon together.
Pour about 1/3 of batter into pan.
Spoon ½ of swirl mix into different spots in the bread batter. Use a knife and swirl around.
Add 1/3 of batter on top and spread evenly
Repeat the swirl step.
Add the last of the batter. Use knife to create swirls.
Bake in oven for 45-50 minutes or until toothpick comes out clean when inserted. (*This is based on using Cup4Cup flour. I've heard from people when using other brands, timing may need to be longer. If using another brand of gf flour, please time based off checking with a toothpick until it comes out clean!)
Allow bread to cool.
Mix glaze and pour over loaf of bread.

Enjoy!