I'm so excited to share our nursery with you! When we finished it, I showed a few pictures on my Instagram Stories so you might have seen a couple already.
When planning the design of the nursery, we knew we wanted something that matched the style of the rest of our house and something that could transition him through the years as he gets older.
Our home style is light and bright neutrals with pops of color in our artwork, so we wanted to do the same for the nursery. There is just something very calming about a minimal, neutral design and calming is definitely the feel we want our baby to have when he's in his room.
I really had a vision in my mind of what I wanted, and got some inspiration from Pinterest but really the whole room was designed based off the animal prints since we found those first and wanted them to be the focal point.
The room is pretty small and it was always our guest room plus office (where the crib is), so we knew we only had one wall to work with since we wanted to keep the bed in there.
There are really only two walls in the room since one wall is filled with windows and then the other one is the closet and bedroom door. I would have loved to have a chair next to his crib, but it wouldn't fit, so we worked with what we had!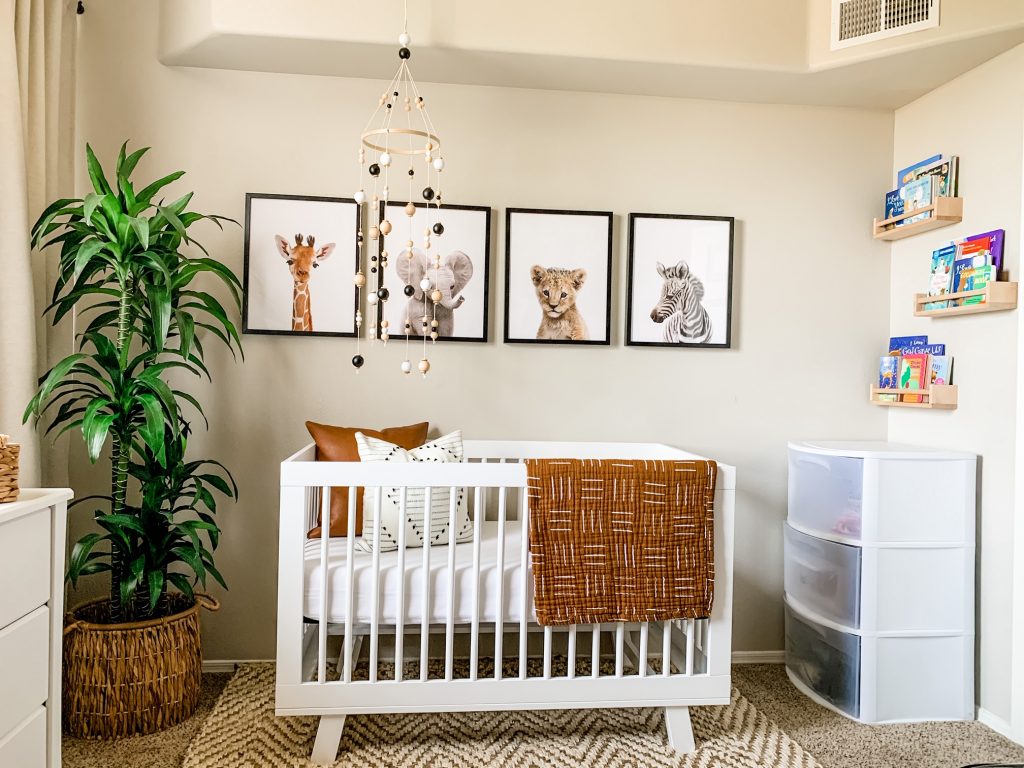 Behind the door we have a little storage container where I keep some of my work items that were in my home office and then overflow of clothes for our little guy. Then we added some shelves for books. I'd love for them to be on display, but once again we had to work with the limited space we have and it works!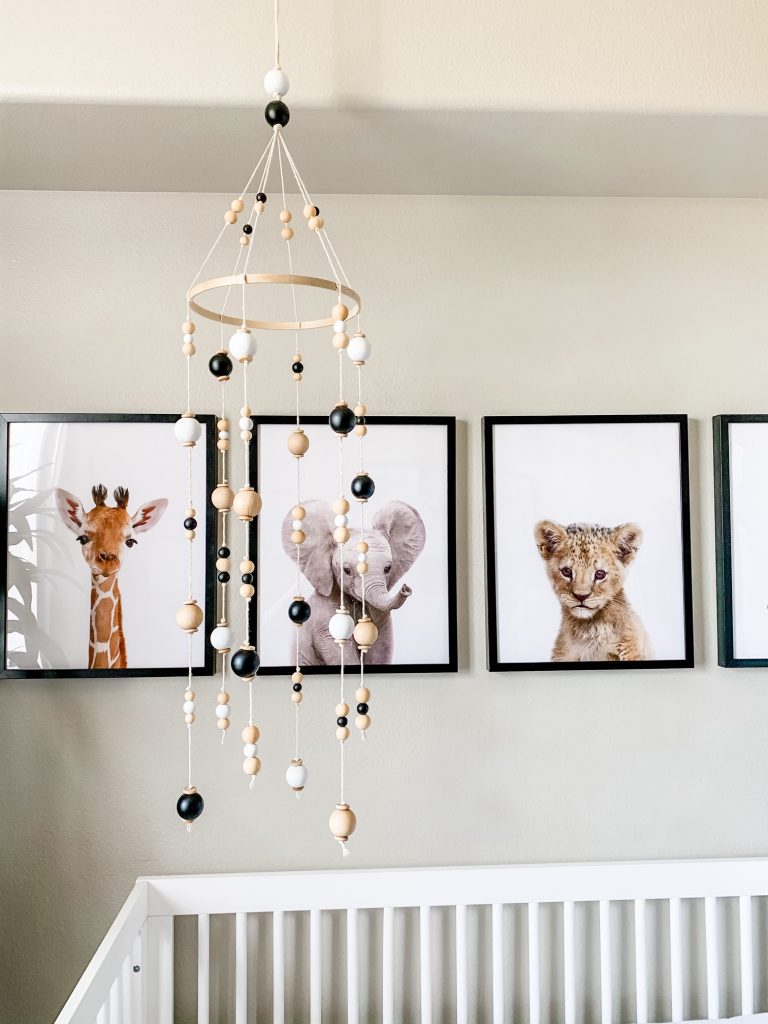 I had a vision for the mobile but couldn't find it exactly anywhere, I knew I wanted it made out of wood and black, white and natural but I could only felt balls. So I drew a picture and explained it to my parents & they made it for me! How talented are they? I've had some people email me after seeing the mobile here and on Instagram asking if we would sell them… we decided to say YES! And after making some and tweaking them a little (after living with it, I realized mine is too long), we decided to open an Etsy shop! If you want a mobile (we also make it in olive green as well as rose pink) I would love to make you one!
This side of the room was already like this, we just changed out the pillow coverings. The shelf my dad made a couple years ago and the frames are old too, so I didn't link them. The art in the frames were in the room before it was a nursery and it's all local art from different cities we love. Even though it doesn't fit with our "safari" theme, we just love bright art made from local artists so we knew we wanted to keep them in there!
I tried to link as many of the items I could find for you!
Where to Find Items in the Room:
Ivory & Black Pillow Case Cover
Plant Basket (not the same one, but very similar)
Diaper Caddy (not the same one, but very similar)
Bed Cover (not the same one, but very similar)
Nightstand (not the same one, but very similar)
I can't wait for him to be here and watch him sleep, play and grow in his room!