This no yeast bread is quick to make with bold flavors of cheese and herbs. To top it off it's moist from Greek yogurt and gluten free!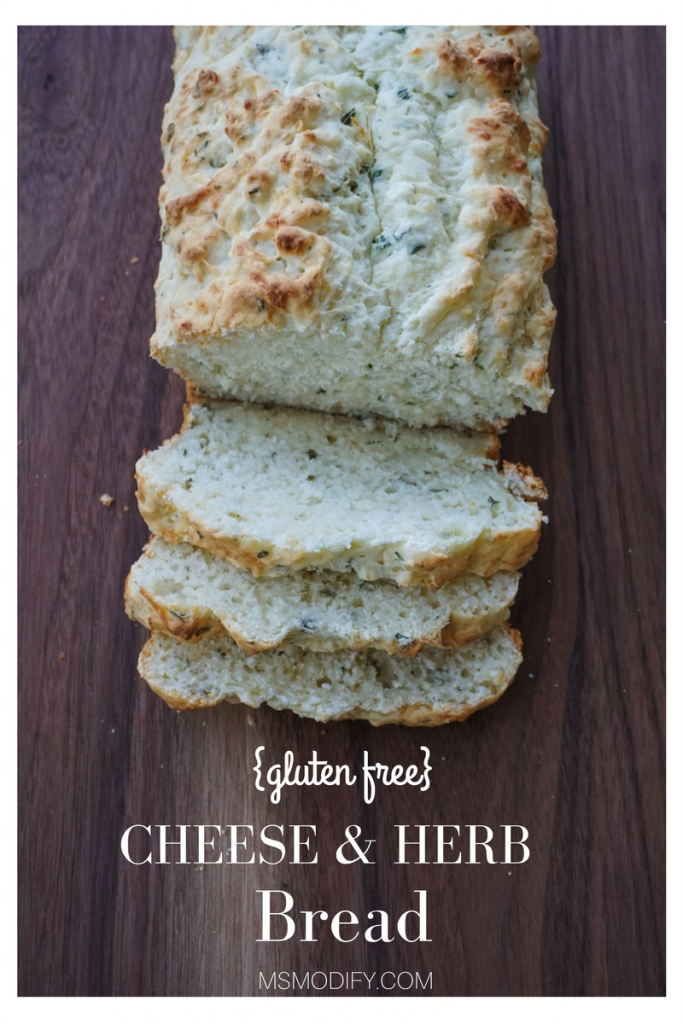 Sweet quick breads are something I bake often, but I thought I would mix it up and make a savory bread. This bread is light and moist, yet not lacking in flavor as the cheese, garlic and herbs gives this quick bread a pop of boldness!
If you're gluten free, you no longer need to sit at the table dreaming of enjoying a piece  bread while everyone passes the bread basket!
Ingredients:
2 cups gluten free flour (I use Cup4Cup)
1 Tbsp baking powder
1/4 tsp salt
1 Tbsp sugar
1 1/2 cups milk
1/3 cup Greek yogurt
1 egg
2 tsp finely minced garlic
1/3 cup finely chopped, mixed fresh herbs (I used rosemary, thyme and sage)
1 cup grated parmesan cheese
Instructions:
Preheat oven to 350 degrees.
Grease 9 inch bread pan and set aside.
In a large bowl, combine the flour, baking powder, salt and sugar.
In a medium bowl, whisk the milk, Greek yogurt, egg, garlic and herbs. Then add in the cheese and gently stir so evenly mixed.
Combine wet and dry ingredients and stir only until combined.
Pour batter into your prepared pan.
Bake in oven for 45-50 minutes or until a toothpick comes out clean when inserted. (*This is based on using Cup4Cup flour. I've heard from people when using other brands, timing may need to be longer. If using another brand of gf flour, please time based off checking with a toothpick until it comes out clean!)
Allow bread to cool completely before cutting it.
Enjoy!
Question:
Do you prefer sweet or savory breads?