This Mediterranean Quinoa Salad is made with fresh ingredients and includes a boost of protein with garbanzo beans added to the mix. This flavorful salad makes the perfect healthy lunch or side dish!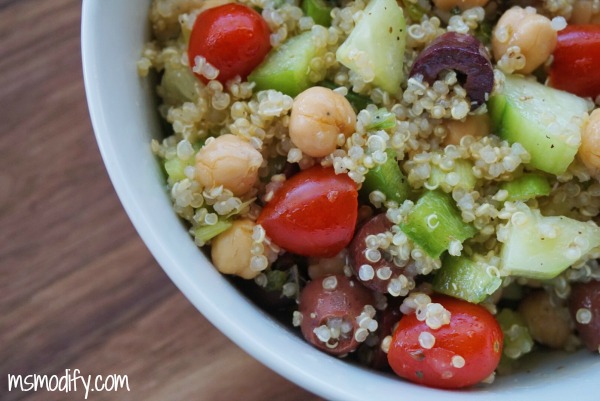 We are big quinoa fans in our house. This Mediterranean Quinoa Salad is a staple for us and I can honestly say it's requested to be made almost once a week!
You can never go wrong with quinoa and won't feel guilty for having seconds…or thirds (who's counting?!). Quinoa is high in protein, fiber, minerals and has a low glycemic index.
Ingredients:
1 cup quinoa, uncooked and rinsed
2 cups water
1 cucumber, peeled and diced
1 cup cherry tomatoes, halved
2 green onions, chopped
1 can garbanzo beans, drained and rinsed
1 green bell pepper, chopped
1/2 cup kalamata olives, pitted and halved
2 Tbsp fresh mint leaves, finely chopped
1 tsp dried oregano
1/4 tsp garlic powder
salt & pepper, to taste
1/4 cup olive oil
2 lemons, juice of
Instructions:
In a pot bring quinoa and water to a boil over medium-high heat. When water starts boiling, reduce heat to low and cover. Simmer for about 15 minutes or until liquid is absorbed. Remove from heat, but keep covered for about 5 more minutes. Then fluff with fork and set aside to cool off.
In a large bowl add your quinoa with your remaining ingredients. Mix until evenly combined. Taste and adjust salt and pepper to your liking, you can also add more lemon juice if needed.

Enjoy!
If you like this you will also like: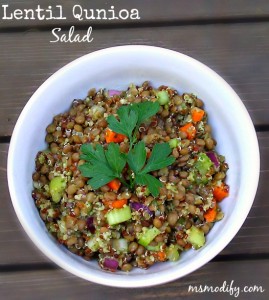 and