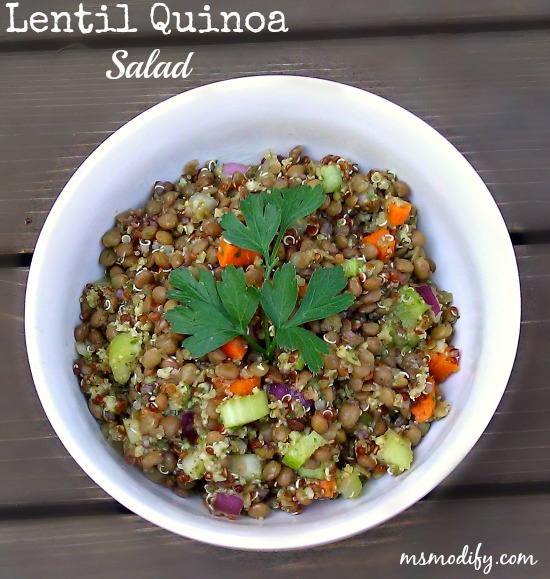 I love quinoa. It is high in protein, fiber, minerals and has a low glycemic index.
I don't know about you, but if I just eat a salad for a meal I'm hungry shortly after. That's not the case with quinoa. It keeps me full much longer, due to the protein.
I love how there are so many different ways you can modify quinoa. This is one of my favorite ways to eat it, like a cold salad.
Let me know what you think!
Ingredients:
1 ½ cups green lentils, rinsed
1 cup quinoa (I used the ancient blend with amaranth and millet. I bought it at Costco)
2 celery stalks, chopped
4 carrots, peeled and chopped
¼ red onion, finely chopped
Dressing:
1 cup fresh parsley, tightly packed leaves
1 garlic clove
2 tsp ground oregano
½ tsp black pepper
1 tsp salt
½ cup olive oil
3 large lemons, juice of
 Instructions:
Place lentils and water (about 6 cups) in pot and bring to a boil. Reduce heat and simmer uncovered for 20-25 minutes, or until tender.
 In another pot, place quinoa and water (about 3 cups) and bring to a boil. Reduce heat and simmer 10-15 minutes, or until translucent.
 Drain both. Put in a bowl and set aside to cool to room temperature.
 For Dressing: Place all ingredients into food processor, except olive oil. Pulse until finely chopped. Whisk in olive oil.
 Add celery, carrots, and onions to bowl with lentils/quinoa. Pour dressing and toss so all ingredients are well coated.
 Serve with lemon wedge.
 Enjoy!