These fluffy biscuits put a pumpkiny twist on a classic favorite and no one will ever know they're gluten free!
If you're gluten free, I think it's fair we can all agree that we miss bread! Unfortunately many store bought gluten free ones just aren't the same as we remember pre-gluten free diet!
I'm so excited to share with you these pumpkin biscuits because they're light, fluffy and melt-in-your-mouth good! When you take a bite of these biscuits, it's literally like taking a bite of fall!
Ingredients:
(makes about 15 biscuits)
2 cups gluten free flour (I always use Cup4Cup)
2 1/2 tsp baking powder
1 1/4 tsp pumpkin pie spice
1/2 tsp salt
1/2 cup (1 stick) butter, chilled and cut into small pieces
1/3 cup buttermilk
3/4 cup canned pure pumpkin
3 Tbsp pure maple syrup
Instructions:
Preheat oven to 400 degrees.
Grease baking sheet and set aside.
Combine gf flour, baking powder, pumpkin pie spice and salt into a large bowl.
Cut in the butter with electric mixer until it resembles coarse crumbs.
In a small bowl, combine the buttermilk and maple syrup, stirring until well combined. Add in canned pumpkin.
Add the buttermilk mixture to the flour mixture and stir just until moistened.
Turn dough onto a lightly floured (gf flour!) surface; knead lightly a few times, adding sprinkles of flour as needed. Roll out to about 3/4 inch thickness; cut with a floured biscuit cutter
Place cut biscuits 1-inch apart on greased baking sheet.
Bake for about 12-14 minutes, or until golden.
Remove from pan and option to brush with melted butter (and/or honey). Serve warm.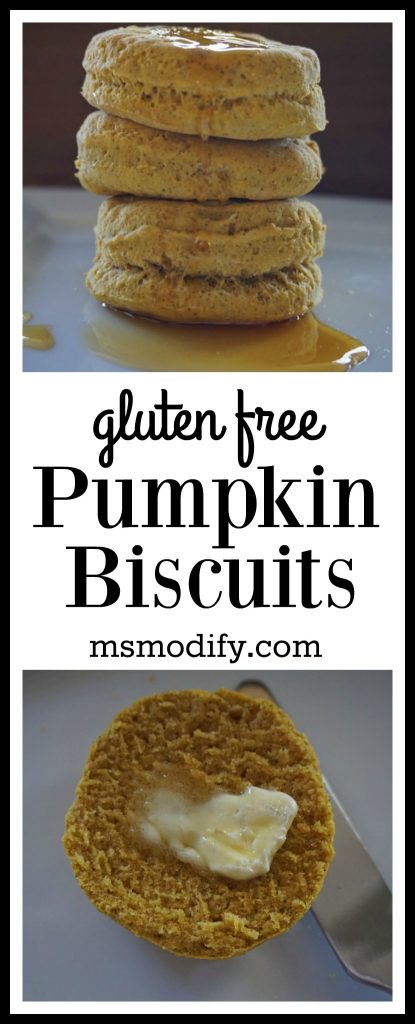 Enjoy!
Question:
What bread item do you miss most since going gluten free?