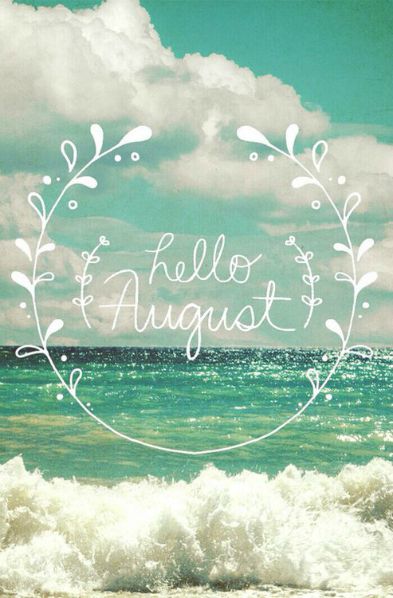 Hello August! Wow I can't believe summer is halfway over! Where did the time go?! Before I get into my August goals, let see how I did on my July goals: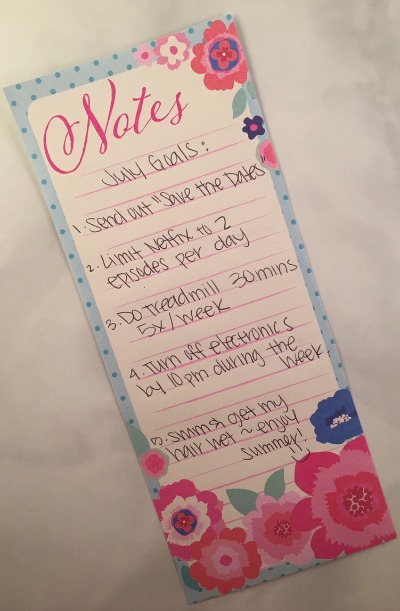 1. Send Out "Save the Dates": Done! I'm going to do a post sharing with you my save the dates, so stay tuned for that! Yay, they are out! It makes the wedding feel so official now!
2. Limit Netflix to 2 Episodes per Day: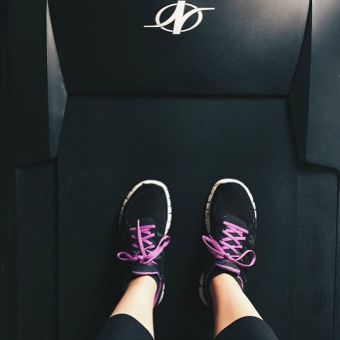 This is a picture of me on the treadmill because this is how I accomplished this goal! I'm a HUGE Scandal fan, so I only allowed myself to watch an episode (season 4) if I was doing the treadmill. This helped make my workout go by sooo much faster and kept me motivated to do it! I highly recommend this technique!! Then I would only watch another episode of something else (Gilmore Girls, etc) in bed.
3. Do Treadmill 30 Mins 5x/Week: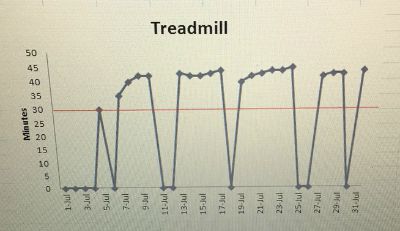 Yes! My graph looks so much better then it did for June! I really believe my Netflix technique is to thank here! (The first week I was on vacation and only did it once)
4. Turn off Electronics by 10pm During the Week: Umm yeah, that didn't happen most nights but I wasn't up on my iPad as late as I used to be!
5. Swim and Get my Hair Wet: Can you believe this hasn't happened it??!! I WILL make this happen in Aug!
I think overall I did pretty well! Now onto my August Goals: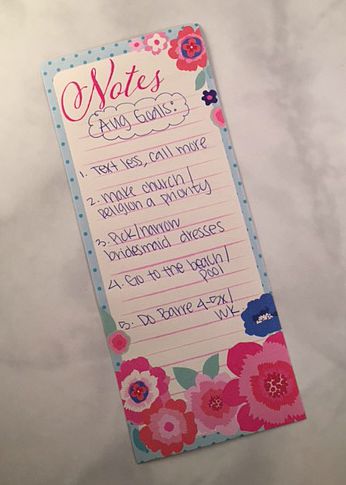 1. Text Less, Call More: I hate to admit it, but unless it involves work I rarely talk on the phone. I'm a big texter. It allows me to multitask, but I know it loses that personally connection. This month I'm going to make an effort to call people instead of text.
2. Make Church/Religion a Priority: This is something I think so often gets pushed to the back of our priorities, and it shouldn't. Erik is going through the process of learning about Greek Orthodoxy (my religion) in order to get Baptized. I really am going to make this aspect of my life a priority and do the classes with Erik and attend Church more regularly.
3. Pick/Narrow Bridesmaid Dresses: I have an idea of what color and style I like, but I keep contemplating on whether or not I pick one dress and have them wear it, or I tell them my color idea and let them get what they want. I like the idea of the second option, but the control freak Virgo in me doesn't!
4. Go to the Beach/Pool: So this hasn't happened all summer yet and it MUST!
5. Do Barre 4-5x/week: So you know I'm a huge fan of the Lagree Method (think pilates on crack), but I've also been doing Pure Barre and am LOVING it!! In one month, I've seen a change in my body. I've decided to stop pilates for the summer and just do barre in order to really compare. So this month I have to step up my game! #SheddingForTheWedding
So there's my August for you!
Question:
What are your goals this month?? Please share!