Hello! Happy Friday! Last week dragged for me, and this week went by super fast! 🙂 I'm looking forward to a fun filled weekend! We are having our friends over for a BBQ and then I'm also going to do wedding stuff with my mom!
Now on to my favorite things from the week. Feel free to play along and add your favorite things into the comment section!
1. Bachelorette Season Finale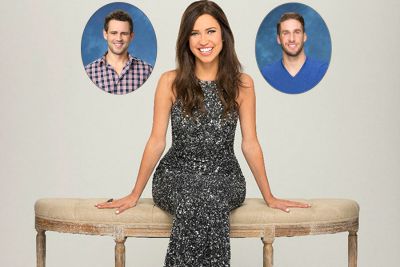 Anyone else confused on how it ended?? I for sure thought Nick was going to get the final rose. On Shawn's final date, it was beyond awkward… they were just sitting there staring at each other, not knowing what to say. Whereas with Nick, they couldn't keep their hands off each other! I was not a Nick fan, but I can totally see how he was upset at the end. I think he has had his 15 minutes of fame, so please ABC don't bring him back on…ever. Every season I say that's the last one for me, but I know I'll come back…especially if Ben is the new bachelor (love him!).
2. Keurig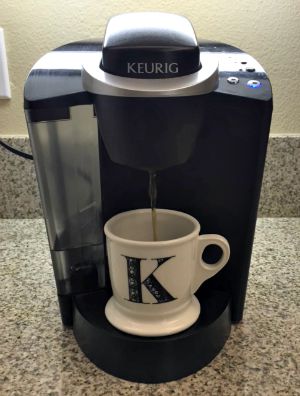 Where has a Keurig been my whole life?! People have always told me how amazing it is, but I didn't think we needed one. Now we have one and I'm in love! Seriously, if you don't have a Keuirg you need one! I love it because I'm trying to cut down on the amount of coffee I drink and since it only makes one cup at a time that's typically all I'll have now. When a pot is sitting there, I keep topping off my cup and end up with the jitters!
3. 180 Snack Packs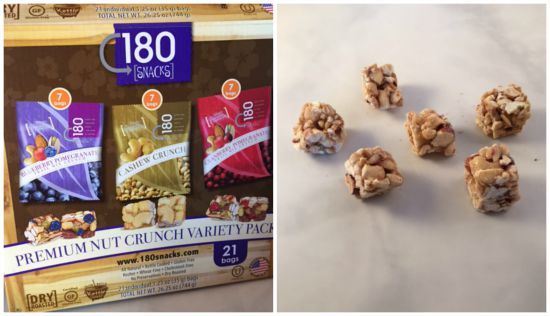 I found these 180 snack packs at Costco and love them! They are the perfect healthy snack to throw in my purse and eat when I'm out. Three different flavors come in this big box: Blueberry Pomegranate, Cashew Crunch, and Cranberry Pomegranate. Each pack is 150 calories with about 5 g of protein. I found them a couple weeks ago at Costco, but you can also order them here. To top it off, they are certified gluten free!
4. Shelf Art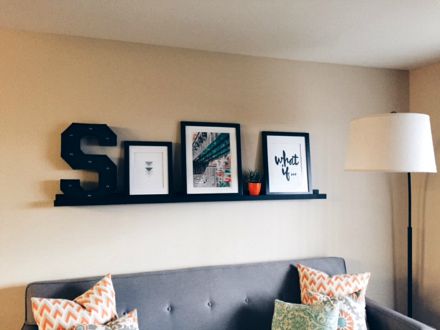 l
This is our living room and our shelf is FINALLY finished! No joke it has not been complete for over a year, we couldn't agree decide on what to put on it! Erik picked out the print in the middle from an art gallery in Austin. It is a print of a bridge in Austin done in a street art type of way. If you read my post from yesterday, then you know how the phrase "What If" is meaningful in my life!  The "S" is for Schumacher, which will be my married name. 🙂 I'm so happy the shelf is finally done and I can share it with you!
Question:
What are your favorite things from the week??