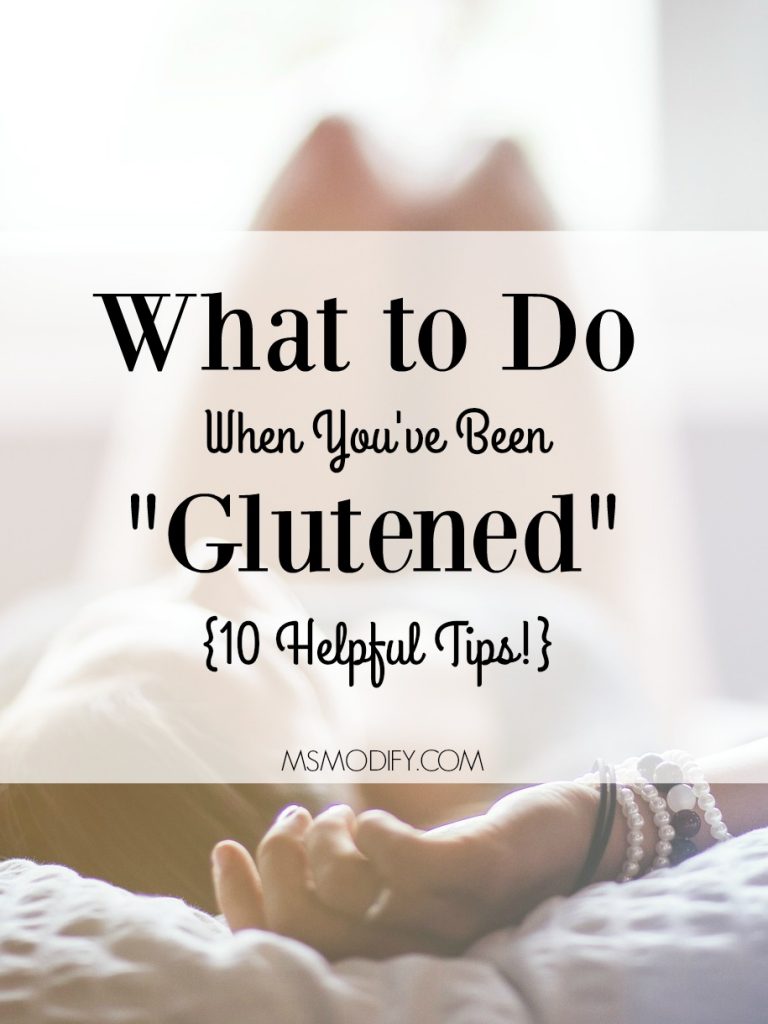 Getting glutened is something I think all people with Celiac/gluten sensitivity try to avoid. As if we don't have it hard enough modifying our life to accommodate being gluten free, but then we need to figure out how to recover after getting poisoned by gluten.
As I always say, I'm not a doctor or medical professional. I'm just a girl trying to navigate my life the best of my ability with Celiac Disease. All of these recommendations I'm about to give you are strictly from personal experience and trial and error.
My top 10 tips to recovering from getting glutened:
1. Rest– This is probably the most important thing that you need to do. Besides feeling like a train hit you and being very tired, your body needs rest in order to heal itself. Don't feel guilty about how much sleep you get. Take naps and listen to your body!
2. Drink Lots of Fluids– It's important to stay hydrated and flush the toxins out of your system. My go-to fluid is bone broth. Bone broth helps heal the gut and is filled with minerals. You can make big batches and freeze it so you always have it on hand. You can also drink lots of water, juice, tea, etc.
3. Tea– Tea can relax you and helps slow down the nervous system. Mint as well as ginger tea is known to help sooth digestion. I like to get fresh mint leaves and boil them in water, or placing a sliver of fresh ginger into hot water. If you cannot do this, tea bags work too.
4. Eat Bland– The BRAT diet is a great one to follow. BRAT stands for: bananas, rice, applesauce and gluten free toast. Stay away from over seasoned or spicy food. Sweet potato is also good because it's easy to digest, but high in vitamins.
5. Eat Anti-Inflammatory Foods-Ingesting gluten sets off an inflammatory response in the small intestine, so foods that reduce inflammation are helpful. Pineapple, papaya, pomegranate and ginger are all recommended.
6. Avoid Dairy– We digest lactose in the tips of our intestinal villi, therefore gluten ingestion can damage the villi and cause temporary symptoms of lactose intolerance. Avoid dairy products until you are recovered.
7. Epsom Salt Baths– Not only do Epsom salts promote detoxing, but they also help you relax and lessen neurological symptoms. Add 1-2 cups of Epsom salt to a warm bath and just relax.
8. Heating Pad on Stomach– Gluten poisoning often causes stomach bloating and discomfort. To help ease any pain/discomfort place a heating pad on stomach.
9. Vinegar Hair Rinse– This will help with hair loss and dull, lifeless hair. Use it 3 times per week.
10. Stay Positive– Getting glutened can often affect your mood. Just remember to stay positive and remind yourself (my favorite quote) "This too shall pass".
Getting glutened is never fun, but I think it helps remind us how serious this disease is and how strict we need to be. It never fails me, just when I feel confident (maybe cocky) about my gluten free diet I seem to get sick!
For some people feeling sick after getting glutened can last a few days and for others a few weeks. Just remember not to get down on yourself, don't make big decisions (brain fog may kick in!), and warn your loved ones that your mood is the "gluten"…not you! 🙂
To hear my symptoms when glutened, you can read my open letter to Celiac. Hopefully this reminds you that you are not alone in this struggle!