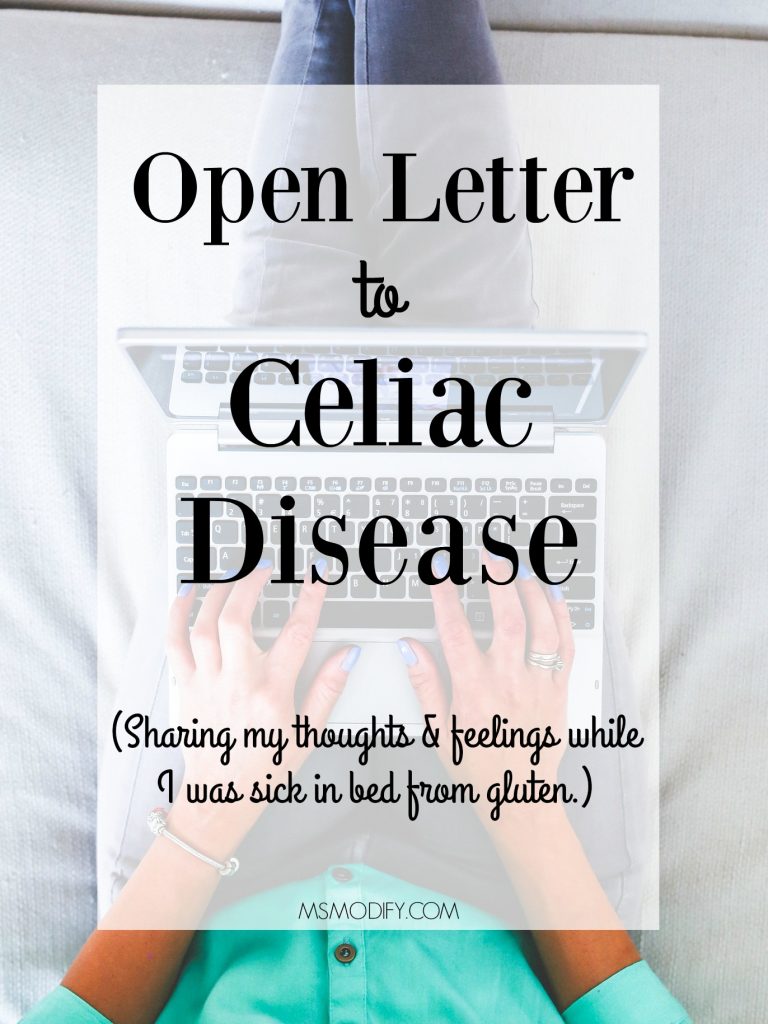 In honor of May being Celiac Disease Awareness month, I thought I would get personal and share an open letter I wrote to Celiac Disease when I was sick in bed. People often don't know the severity of this illness and tend to link it with food allergies (which it is not!!). Feel free to share this with others in order to spread awareness for this disease. (side note: Celiac is the most genetic autoimmune disease, yet the most underfunded and under researched) Help spread awareness! (Okay that's my PSA for the day)
Here you go:
Dear Celiac,
My head hurts. My brain feels foggy.  My body aches. My joints hurt. My hand is tingly. My stomach is a mess, everything from cramps to indigestion. I'm  so tired but can't sleep. In a few days I know my hair will start falling out for a month straight. All because I ate out.
I'm sad because I had plans this weekend; instead of being at the beach with my friends,  I've been in bed for two days now.
 I'm angry. I take you serious and rarely eat out because that's when I typically get sick, and when I do eat out I talk to the manager about being careful with cross-contamination.
I'm hurt because my family says to me "when are you going to learn?".  Every time I get a flare of you I promise myself that this is the last time and I'll never take chances again. But really, I know it's not. I have self-control and never "cheat "with gluten, but at the same time I feel like I have to live my life and not be in a state of constant paranoia.
I hate going out where everyone around me can eat freely and not worry about getting sick because the guy in the back didn't take me serious and change utensils or a new cutting board.
Everyone always says "It's not a big deal" or "just go to hang out". Well you know what… it is a BIG deal to me. I have people ask me if I'm gluten free to watch my figure or that "wow I tried being gf and I didn't know giving up bread was so easy". Please… if only it was that easy.
I've had friends and even family tell me "I was going to invite you, but I figured you can't eat, so I didn't". That's what I hate about you… not only do you make me feel physically sick, but you took life as I knew it away from me. You robbed me of being able to be young and spontaneous. I was already a rigid person and a planner, but you took me to the next level.  You have affected my social life, how people around me treat me, my vacations; every aspect of my life. I hate you Celiac, I really HATE you.
 On the other hand, you saved my life and I'm grateful for you. We have a dysfunctional relationship. I know I'm stuck with you for life and am hoping we will work out our issues. It's just that every time you make an appearance in my life unexpectedly, you throw me for a whirlwind. I know we will get through this together, but as of today I'm mad at you… and myself.
 Your Friend/Enemy,
Kristina