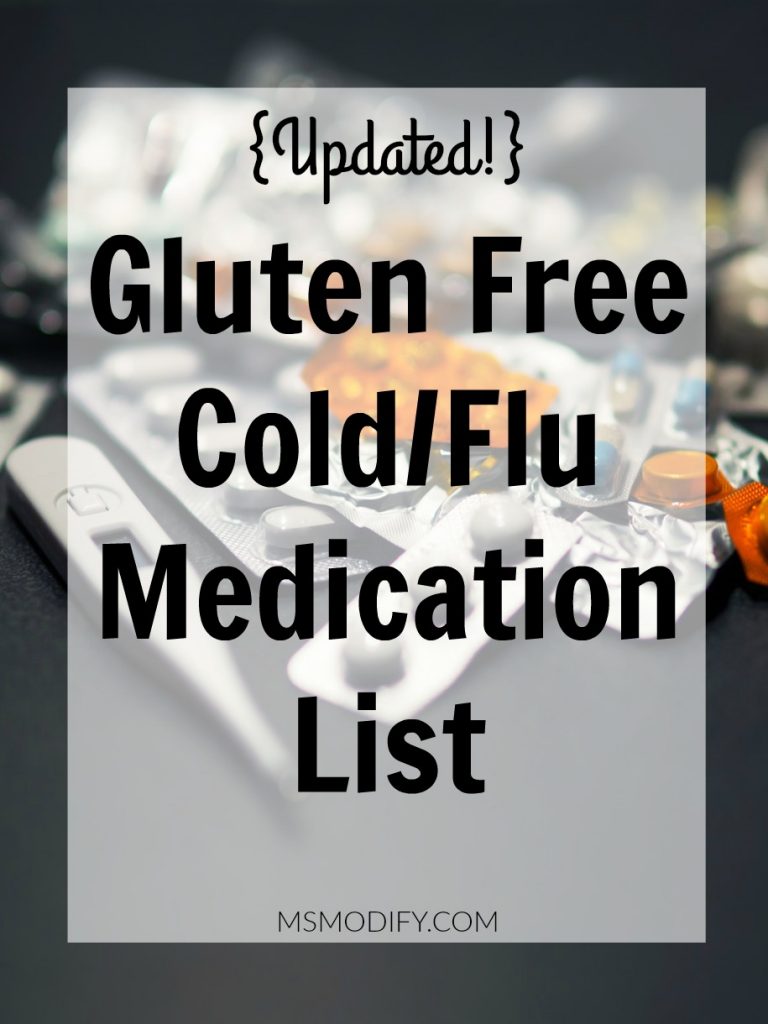 It's that time of year again! It seems like colds and the flu are in full force right now! It's been two years since this list was updated, so I'm happy to be able to share this info with you.
For me personally, preventative measures are really important for avoiding a cold/flu altogether and then I don't have to worry about taking medicine. There are certain things I do in order to keep my immune system strong, especially during flu season. I'm also a HUGE fan of sinus rinse and do it faithfully! 
As my fellow gluten free friends know, trying to find out which medicine you can and cannot take when you're not feeling well is no fun! Unfortunately with celiac disease, reading labels and researching products is a big part of life!
To help make life a little easier (especially when you're not feeling well), I've put together an updated list of gluten free cold/flu medication.
As always, I am not a doctor so please consult with your doctor or pharmacist before taking medications or for any questions you may have. And remember… when in doubt, go without! 🙂
When there is a generic drug listed the manufacturer is in parenthesis.
Gluten Free Cold/Flu Medications:
Azithromycin (Greenstone, Sandoz, Teva, Pleva, Wockhardt)*

Benadryl-all products

Biaxin (tabs/liquid)

Cipro

Clarinex

Clarinex D

Clarinex Reditabs- company does not know source of starch

Claritin

Claritin D

Claritin D-24

Claritin liquid

Comtrex (tabs/caplets/liquid)

Comtrex Deep Chest Cold

Comtrex Non-Drowsy

Dayquil

Dimetapp elixir

Dimetapp tabs-CONTAINS GLUTEN!!!

Equate Allergy Relief *

Erythromycin tabs (Abbott labs)

Flomax

Flonase

Ibuprofen (Amneal, Pharm. Formulations)

Keflex

Nasacort

Nasacort AQ

Nasalcrom

Nasalide

Nasonex

Niquil

Phenergan w/ Codeine syrup

Robitussin Cold & Congestion Caplet

Robitussin Cold & Cough Liqui-Gels

Robitussin Cold Severe Congestion liqui-gels

Robitussin Cold, Cough & Flu Liqui-Gels

Robitussin line

Robitussin Multi Symptom Cold & Flu Caplets

Robitussin Night Time liquil-Gel

Sudafed

Sudafed Cold & Sinus Liquid Caps

Sudafed Plus

Tamiflu

TheraFlu Cough and Cold

Tuss DM
Tylenol Allergen Statement: "Although we don't add gluten or gluten containing grains to our products, we cannot confirm that the product or any ingredients in TYLENOL® products are gluten free. Your safety is of great concern to us; therefore, we strongly recommend that you first consult your doctor before using any product if you have a form of gluten intolerance or sensitivity."
*There are no gluten-containing ingredients added to this product however the manufacturer cannot guarantee the product is gluten-free since they do not test for the absence of gluten.
** Post updated by MsModify 1/18/18
***This list is for the US. If you're in another country, please contact the manufacturer first.
Information provided by: glutenfreedrugs.com– list updated 4/17