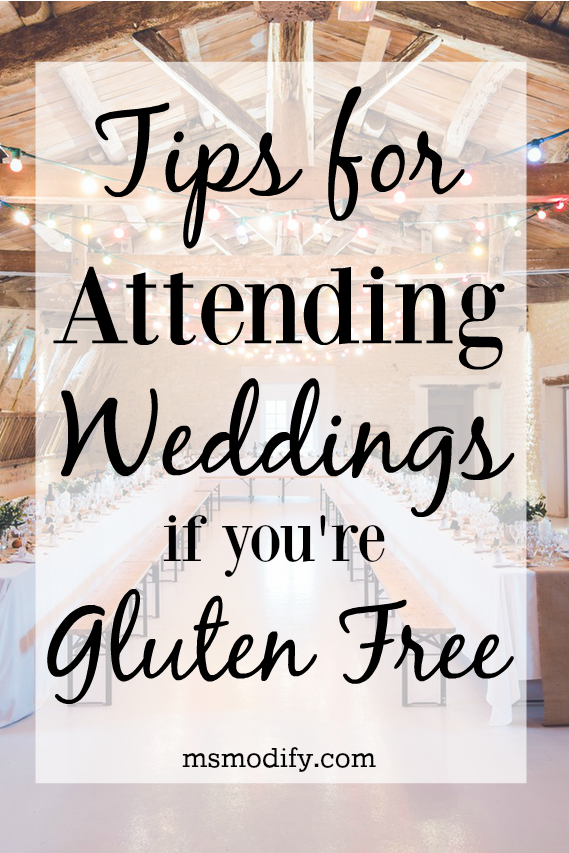 Weddings are always such a joyous event: celebrating the love between two people, cute little appetizers, delicious food, if you're lucky an entire dessert table and dancing the night away. While this is such an exciting day for the bride and groom, and fun for guests… if you're gluten free then you know weddings are another social event that can be stressful.
Even if you're gluten free, you should be able to have fun and enjoy a wedding without the added stress your dietary restrictions bring! This year alone, Erik and I have attended 5 weddings (plus our own!) and we're headed to Texas this weekend for another one! So… needless to say, I have created and mastered a system for enjoying weddings!
Tips for Attending Weddings if you're Gluten Free:
Make a Note of your RSVP Card: Chances are if you're invited to the wedding, the bride/groom may know about your dietary needs… however they have A LOT going on and should't go out of their way for you (harsh.. but true!). On your RSVP card you can either make a note that you're gluten free OR make a note that due to being gluten free you will bring your own food (so they don't pay for a meal for you).
Plan Ahead: Depending on the bride (how much she has going on) talk to her or someone else involved in the wedding planning and have them talk to the venue/caterer about bringing in your own food due to health reasons. *I've NEVER had an issue with this.
Eat a Big Meal Beforehand: Weddings tend to be long days, especially if there is a large break between the ceremony and reception. The last thing you want is to be starving with not many options, other than a little plate of veggies at cocktail hour. Before you head to the wedding, eat a big meal! Try to load up on protein so it holds you over.
Bring your Own Bar: Listen, this may not sound like the classiest thing to do as a lady… but hey, we've got to do what we've got to do! I always pack little bottles of alcohol in my purse (or lunchbox!) and then just ask the bartender for soda or tonic water and a lime. Yes, lots of alcohol is gluten free… BUT.. if they don't do a "free pour" you could be at risk for cross-contamination. I've learned from experience, many bartenders use the same shot glass (and just wipe it) between each drink they make.
Pack a Meal: Everyone that knows me, knows I always come with a big lunchbox (possibly a mini-cooler!). Like I said, I've never had an issue with a venue saying I can't bring food in… however I have had a place tell me they can't hold it in the refrigerator (due to liability). Therefore, make sure you put ice packs in your lunchbox. Also, it's up to you about asking for them to heat your meal. I prefer not to have them do it, due to cross-contamination. Therefore, I try to always pack something I can eat cold (i.e. salad with some type of meat, quinoa, gf pasta chicken salad, etc). I also pack appetizers (gf crackers, cheese, etc) and always dessert!
Request a Clean Plate: As soon as you're seated and see your server, ask them to bring you a clean plate before dinner is served. I always pull them aside discretely and just tell them my situation. Everyone has always been very nice about it.
Don't Make it a Big Deal: My feeling is food is not that big of a deal to take chances on. Yes, you can talk to the caterer and take a chance they're careful (when they're preparing meals for possibly hundreds of people) OR you can just pack your own food and guarantee yourself a night where you won't get sick. Make it about the people and the fun… not the food!
I remember the first time I went to a wedding after I was diagnosed with celiac… I was not prepared and was practically in tears because I was so stressed. Fast forward years later and I love weddings! As I always say… plan ahead, take precautions, don't make it a big deal and have fun!