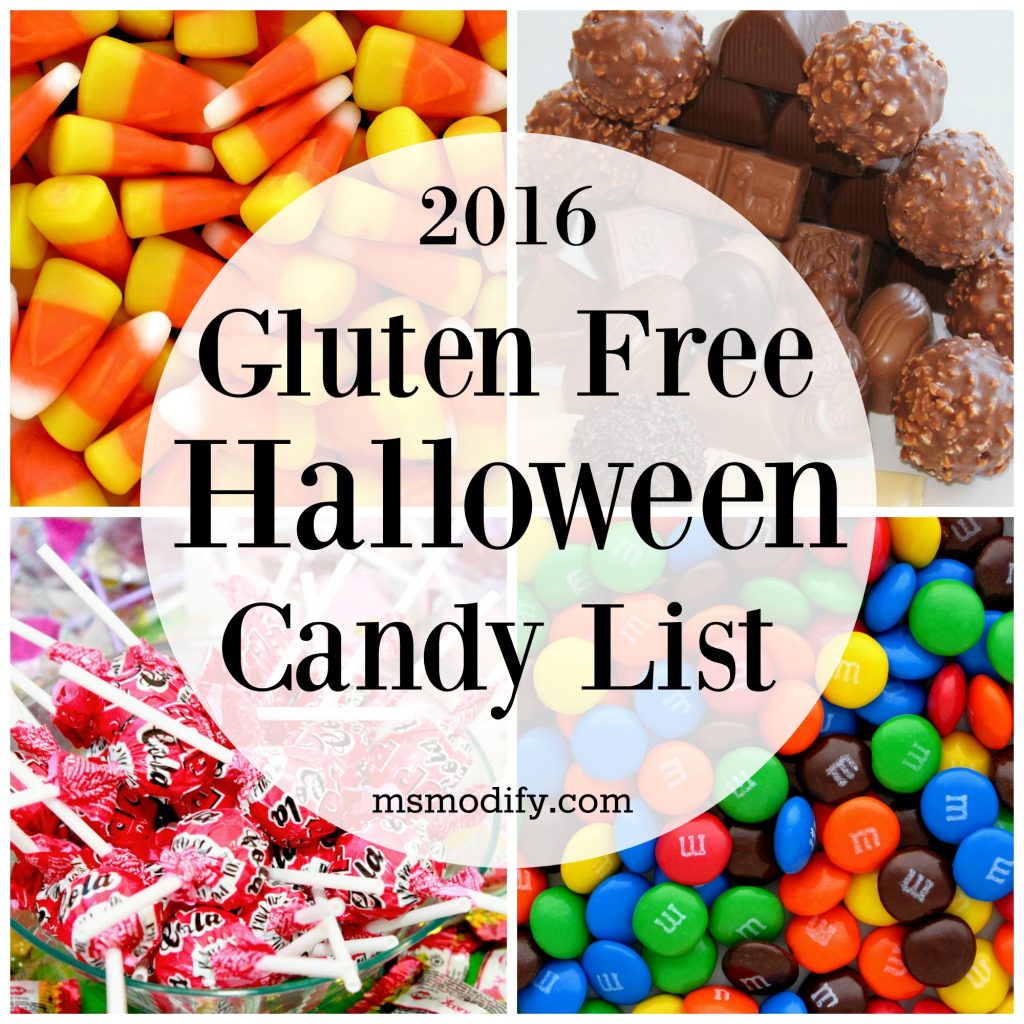 How is it already time for Halloween?! Every year I put together a list of gluten free Halloween candy of popular brands that you can easily find in stores, and this year is no different! No need to stress about what candy you can or can't enjoy this year… I've got you covered!
Airheads
Airheads Bites
Airheads Xtremes Bites
*Airheads Xtremes Belts do contain gluten
Atomic Fireballs
All Gummies (Black Forest, Ferrara, Sathers, Trolli)
All Jellies (Gum Drops, Orange Slices, etc)
Bob's Sweet Stripes
Boston Baked Beans (contains peanuts)
Brach's Wild 'N Fruity Gummi Worms
Brach's Candy Corn – All Varieties
Brach's Chocolates – Peanut Caramel Clusters, Stars, Chocolate Covered Raisins, Double Dipped Peanuts, Peanut Clusters (they are processed in a facility that processes wheat)
Brach's Cinnamon Disks
Brach's Cinnamon Imperials  (They are processed in a facility that processes wheat)
Brach's Conversation Hearts
Brach's Jelly Bean Nougats (they are processed in a facility that processes wheat)
Brach's Lemon Drops (Kosher)
Brach's Halloween Mellowcremes – All Varieties (They are processed in a facility that processes wheat)
Candy Canes (Bob's, Brach's, Lemonhead & Friends, Red Hots) Allergen Free
Cherry Sours
Fruit Snacks (Ferrara, Black Forest, Trolli)
Gumballs
Jawbreakers / Jawbusters
Jelly Beans
Juju's
Jujy's
Lemonheads
Lemonheads & Friends Conversation Hearts
Tropical Chewy Lemonhead
Chewy Lemonhead & Friends
Berry Chewy Lemonhead
Cherryhead
Grapehead
Now & Later
Red Hot's
Almond Joy (All except Almond Joy Pieces Candy)
Kisses Milk Chocolate
Kisses Milk Chocolate Killed with Carmel
Kisses Milk Chocolate Filled with Cherry Cordial Creme
Kisses filled with Vanilla Creme
Kisses Dark Chocolate filled with Mint Truffle
Kisses Pumpkin Spice Flavored
Hershey's Milk Chocolate Bar (1.55 oz. only)
Hershey's Milk Chocolate with Almonds Bar (1.45 oz. only)
Hershey's Nuggets
Milk Duds
Mounds
Payday
Reese's Peanut Butter Cups (all except for unwrapped minis and seasonal shaped items)
Reese's Pieces Candy (all except egg shaped)
Rolos (all except minis)
YORK Peppermint Pattie – (All Except YORK PIECES Candy, YORK Minis, and YORK Shapes (5 oz.)
Mike & Ike:
Berry Blast
Hot Tamales
Italian Ice
Jelly Beans
Jolly Joes
Lemonade Blends
Mummy Mix & Vampire Variety Treats
Mummy Mix Tube
Original Fruits
Redrageous
Strawberry Reunion
Tangy Twister
Tropical Heat
Tropical Typhoon
Vampire Variety
Zours
PEEPS:
Chocolate Crème mini
Chocolate mousse flavored cats
Flavored Marshmallow chicks (except snack size)
Marshmallow ghosts
Strawberry Crème mini
Sour Watermelon mini
Sweet lemonade
Sugar free marshmallow pumpkins
Vanilla Crème
Baby Ruth
Bit-O-Honey
Butterfinger bars, but only in fun size, singles, and share pack (Butterfinger Bites, Butterfinger Minis, Butterfinger Cups, and special holiday-shaped Butterfinger items are NOT considered gluten-free)
Goobers
Milk Chocolate Goobers
Nips (including both regular and sugar-free)
Oh Henry!
Raisinets (all flavors)
Sno-Caps
Wonka Pixy Stix
Laffy Taffy
Laffy Taffy Rope
Wonka Lik-M-Aid Fun Dip
Andes
Caramel Apple Pops
Cella's Dark Chocolate Covered Cherries
Cella's Milk Chocolate Covered Cherries
Charms Blow Pops
Charms Candy Carnival
Charms Pops
Charms Sour Balls
Charms Squares
Charms Super Blow Pops Child's Play
Dots
Fluffy Stuff Cotton Candy
Frooties
Fruit Rolls
Fruit Smoothie Pops
Junior Caramels
Junior Mints
Pops Galore
Sugar Babies
Sugar Daddy Pops
Sugar Mama Caramels
Tootsie Peppermint Pops
Tootsie Pops
Tootsie Rolls
Tropical Dots Tropical
They no longer provide a gluten free list. According to their website:
"1) We will always declare the presence of any of the top allergens (peanuts, tree nuts, milk, egg, soy, wheat, fish and crustacean shellfish) whenever they are part of the recipe regardless of the source (e.g., flavors, spices, colors, other minor ingredients, etc.).*
2) We label these allergens in commonly understood terms at least once within the ingredient listing (e.g., casein (milk)"
According to their website:
"Yes, our products are both manufactured without wheat and made in a facility that is free of wheat, making them suitable for people with celiac disease or following a gluten-free diet. (Note: we do random testing on finished product down to 5PPM for gluten and have never had a positive test result.)"
According to their website:
"All flavors of Jelly Belly beans are free of gluten. We do not use any wheat, rye, barley, or oats in the basic recipe for Jelly Belly jelly beans. The modified food starch listed on the package is cornstarch."
According to their website:
"YES! Smarties® and our entire line of products are gluten free. If the UPC number on the packaging begins with "0 11206", you can be assured that it is manufactured in a facility that is gluten free and safe to eat if you have Celiac Disease."
**This list is for the US. If you're in another country, please contact the manufacturer first.
If you're not interested in passing out candy and want to know about the Teal Pumpkin Project instead, click here!
Happy trick-or-treating friends!