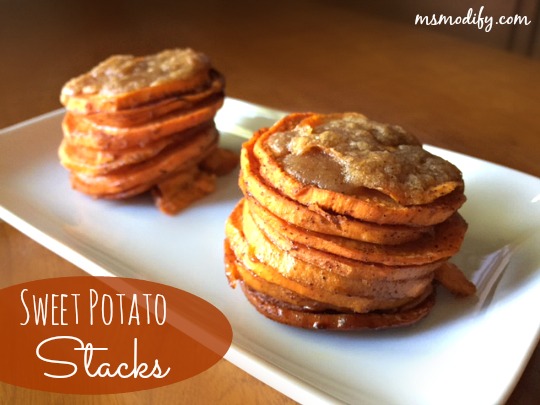 Sweet potatoes are one of my favorite side dishes to make. On Pinterest I saw all these different recipes for "potato stacks", and instantly knew I wanted to try them. I made these sweet potato stacks over the holidays in place of a sweet potato casserole and they were a big hit!
I love the flavors of sweet potato with cinnamon and sugar; I make them all year around… not just on holidays! They're super easy to make, even easier to serve and taste delicious!
Recipe modified from: Emily Bites
Ingredients:
(makes 12 stacks)
2 ½ lbs raw sweet potatoes, sliced very thin
2 Tbsp vegetable oil
3 Tbsp pure maple syrup
1/8 tsp salt
¼ tsp cinnamon
1/8 tsp nutmeg
1 Tbsp gluten free flour
5 tsp brown sugar
Instructions:
Preheat oven to 375 degrees. Grease a 12-cup muffin pan and set aside.
Combine oil, one Tbsp of butter, syrup, cinnamon and nutmeg in a small bowl.
Place sliced potatoes into a large bowl, pour oil mixture in bowl and mix until all potatoes are
evenly coated.
Stack potatoes in muffin tin to form little piles.
In another small bowl, combine the salt, flour, brown sugar and the remaining 1 ½ Tbsp of melted butter. Stir mixture together and then place a small amount on top of each potato stack.
Place in oven and cook for 45-55 minutes or until potatoes are cooked through and edges are lightly brown.
Enjoy!
Today I'm linking here.