This taco soup recipe is the perfect way to modify your taco Tuesday! It's simple, gluten free and hearty enough to fill you up!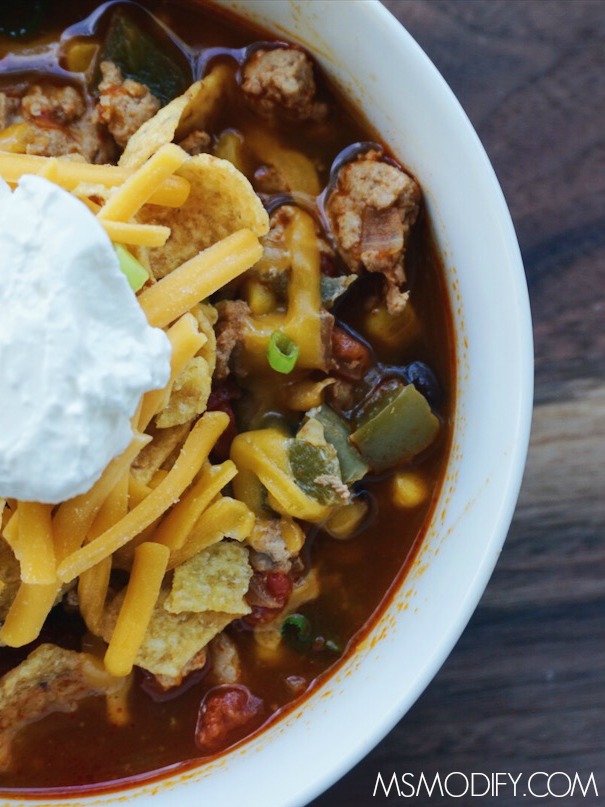 This slow cooker taco soup is so easy to make that you just need to spend a few minutes preparing it in the morning, throw all your ingredients into your slow cooker and then let it cook! When you get home at the end of the day, not only will your house smell amazing but you will have a delicious meal waiting for you!
If you like the heartiness of chili and all the bold flavors of chicken tortilla soup, then this is calling your name! This recipe can easily be made gluten free just by purchasing gluten free ingredients.
Ingredients:
1 package of lean ground turkey (you can use beef if you prefer)
1 medium onion, diced
1 bell pepper, diced
Olive oil
1 (32 oz) box chicken broth
2 (10oz) cans diced tomatoes with chiles
1 (8 oz) can tomato sauce
1 (10 oz) can enchilada sauce
1 can black beans, drained and rinsed
1 can corn, drained and rinsed
1 package gf taco seasoning (McCormick makes a gluten free taco seasoning)
Sour cream, to garnish
Shredded cheese, to garnish
Green onions, to garnish
Corn chips, to garnish (I used Fritos)
Instructions:
Drizzle a little olive oil in saucepan. Add onions and bell peppers to pan, and sauté for a few minutes until onions become translucent.
Add turkey and brown. Drain any excess liquid.
Add ground turkey mixture to slow cooker, along with all other ingredients (minus the ingredients for garnishing).
Stir to combine and place lid on slow cooker.
Cook on high for 4 hours or low for 6 hours.
Serve soup warm with sour cream, shredded cheese, green onions and corn chips (or any of your other favorite garnishes!).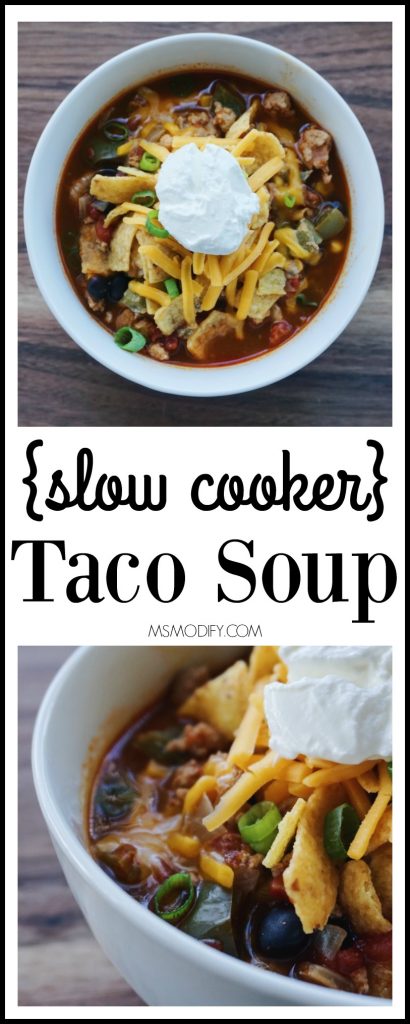 Enjoy!