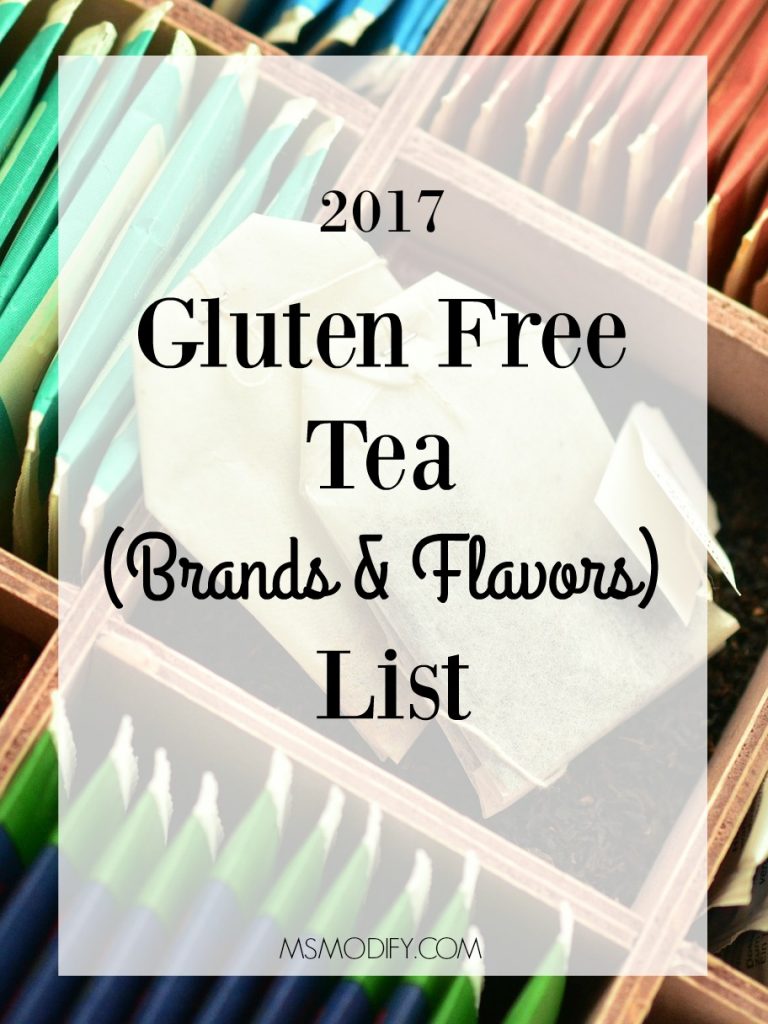 I know what you're thinking… Really? Tea? Do I really have to worry about gluten being in my tea bags? If you're drinking plain tea- black or green, then you don't need to worry about it having gluten in it, assuming it hasn't been cross-contaminated with any gluten during processing.
On the other hand, many herbal teas add barley malt as sweetener or use roasted barley as an ingredient. As with anything when you're gluten free, always make sure you read the labels or call the manufacturer before putting anything in your mouth!
Don't worry, if you're a tea drinker you have many options that are gluten free! Here's a list of large brands that offer gluten free options, including some of their statements regarding their products.
Bigelow: All current Bigelow Teas are formulated to be gluten-free. According to the company "we do not use any of these grains in our products".
Celestial Seasonings: The company states that most of their teas are gluten free, testing less than 20 parts per million. According to the company, "two of our teas (Roastaroma and Sugar Cookie Sleigh Ride) contain roasted barley, an ingredient that contains a form of gluten. We label every box of tea we make as either "gluten free" or "contains gluten" for your convenience."
Great Value (Wal-Mart): According to Wal-Mart, the following are gluten free: Black Tea Iced Tea Brew (Bags)
– 100% Natural Green
– Naturally Decaffeinated Black
– Naturally Decaffeinated Green
Lipton: According to Lipton's website they do not publish a list of gluten-free varieties. However, they state "we recommend that you read the label each time before buying our product. If gluten is present, it is clearly listed in plain language on the ingredient label (i.e., wheat flour, rye, barley, oats, and malt)." They also note, "We do not use any glue in the assembly of our Tea bags or tags. Where a staple is not used, we use pressure and heat to adhere the string to the tag and the bag."
Mighty Leaf: According to their website, "None of our blends contain wheat, rye, barley, or oats, so the tea itself is gluten-free.  However, our teas may be processed in a facility that also processes gluten products, opening up the risk for cross contamination".
Numi Organic Tea: According to their website "All Numi Teas are gluten free. Our teas are packaged in facilities and on machines that do not process or work with gluten".
Stash Teas: According to the company, "We actively maintain signed statements from our ingredient suppliers stating that all ingredients purchased by Stash Tea Company are gluten-free. We do not use barley malt in any of our blends".
Tazo: In an email from the company, "because Tazo products and ingredients are not tested for gluten content, we are unable to say that they are gluten free".
Teavana Teas: According to a company representative, all of Teavana Teas are gluten free.
The Republic of Tea: The Company states, "The Republic of Tea is the first and only tea company in the United States to be certified by the Gluten-Free Certification Organization (GFCO). This ensures most of our full-leaf and bagged teas are absolutely free of gluten and possible cross-contamination from gluten. You will find the Gluten-Free logo on teas and other products with the Gluten-Free certification".
Tetley Teas: Stated on their website, "To the best of our knowledge, our products are gluten free and do not have any processing contact with products that contain gluten. However, we cannot guarantee 100% that our products are free from all traces of gluten. Tea is a natural product typically made from a number of origins where there is a very low risk of contamination from the supply chain environment".
Twinings Teas: Twinings Teas are all gluten free and state, "Twinings products do not contain any of the major food allergens".
Yogi Tea: According to their website, "All natural flavors used in Yogi teas are gluten-free as are the tea bag material and packaging. Yogi has over sixty varieties of tea, and only four of our current recipes contain barley malt, and therefore gluten: Calming, Healthy Fasting, Kava Stress Relief and Stomach Ease. At this time, we are pleased to share that we are in the final stages of examining the removal of barley malt from these four formulas without disrupting the flavor of the teas".
If there is another brand that you'd like to know about, please let me know and I'll be happy to find out for you!
**This list is for the US. If you're in another country, please contact the manufacturer first.