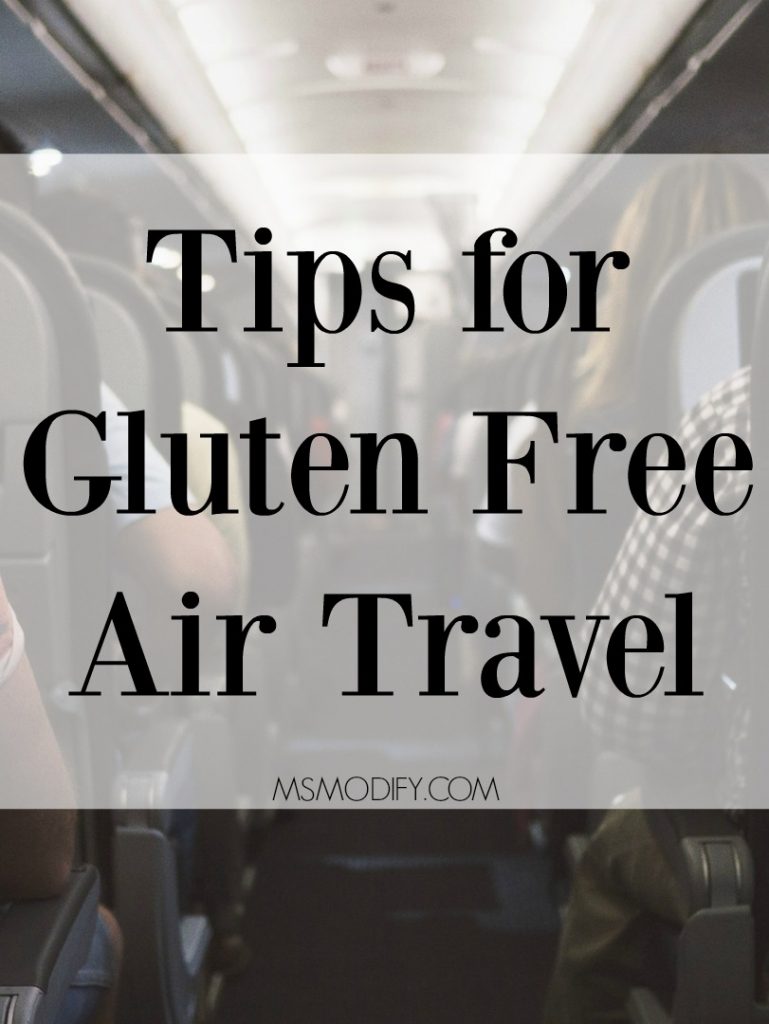 Air travel tends to be a little more challenging if you're gluten free due to the lack of flexibility for you. From strict security restrictions, to unexpected flight delays. Just as with anything when you're gluten free, preparation is key.
There is no reason you should avoid air travel just because you fear not being to find anything suitable to eat in the airport or on flight, or because you stress getting sick while traveling. 
Tips for Gluten Free Air Travel:
Bring Your Own Snacks/Food: Bringing your own food is the only way to 100% guarantee a safe meal for yourself. You don't want to worry about food spoiling, especially if you have a long flight/layover so avoid anything that needs to be refrigerated. I always pack a ziploc bag filled with peanut butter & jelly sandwiches, gf crackers, gf cookies, protein bars, dried fruit, nuts, whole fruits (bananas, apples, etc.), carrot sticks, etc.
Getting Through Security: When deciding what to pack, keep in mind the security regulations. Travelers are allowed to bring 3.4 ounces of liquid or gel (per container) through security and it must be in a clear Ziplock bag (no larger than a quart). Don't forget gel packs that keep your food cold also falls into this category, so that's why I say you're better off avoiding foods that need to stay cool. Also, don't wrap anything in aluminum foil because it will interfere with x-ray machines.
Eat Before Your Flight: Since most short flights don't offer meals and typically snacks on the flight aren't gluten free, you will want to make sure you eat before your flight. Even if it's a short flight, it never fails that your stomach will start rumbling as you look around at everyone snacking on their airline provided pretzels.
Research Airport Restaurants Beforehand: Just how you would research places to eat at your final destination, you need to do this for the airport as well. Even if you see that the airport has a restaurant you're familiar with, make sure to call ahead of time and speak to someone regarding gluten free options. Often times airport restaurants have limited menus and differ from the same restaurant that's not in an airport. Don't be embarrassed to ask extensive questions regarding gluten free options (cross-contamination, how it's prepared, ingredients, etc.). I don't know about you, for me there is absolutely nothing worse than getting sick when you're up in the air for hours just because you didn't prepare ahead of time.  
Contact Your Airline Regarding a Gluten Free Meal: Most major global airlines offer gluten free meals for long flights where meals are offered. In order to get this, make sure your airline offers this at the time of booking. If so, it's best to request this at the time you book your flight but then you MUST call the airline 48-72 hours prior to your flight to confirm your meal. I recommend you specify you have celiac, so they know your meal must be 100% gluten free.
Notify Your Flight Crew About Your Meal: Once you've boarded the plane, introduce yourself to the flight crew and double check they know and have your gluten free meal. This way you can feel comfortable knowing they're aware of your situation and won't give your meal to someone else who decides last minute they want a gluten free meal.  
Double Check Your Gluten Free Meal: Just as you would at a restaurant, when your meal is delivered double check with the flight attendant that it is in fact gluten free. Anything packaged that's given to you (cookies, crackers, etc.) read the label to make sure it's gluten free.
If you follow these simple rules while flying, you can safely enjoy your trip and not having to worry about getting sick from gluten!