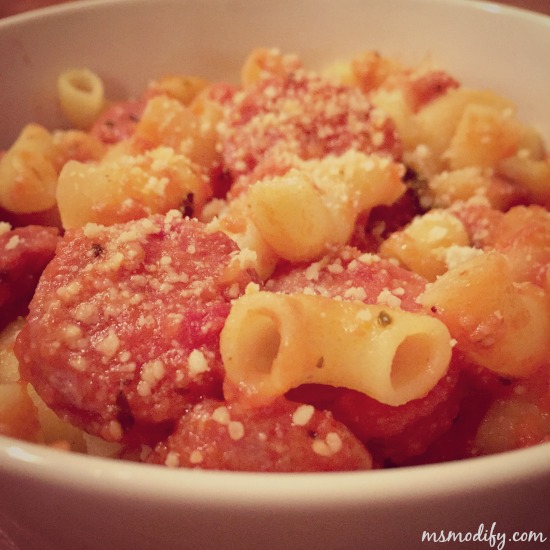 I have bought vodka sauce in a jar before and loved it, but I have never made it. I thought I would give it a try and wow was it good!
I call this semi-homemade because I used pre-made marinara sauce. This worked out well for me because I made it one night after work and was looking for something quick. But, feel free to make your own sauce!
Don't worry if you don't drink alcohol or about the kiddos, because the alcohol evaporates when you cook it.
This is seriously one of my favorite pasta dishes and I am planning on making it much more!
Ingredients:
1 package Apple Chicken Sausage (I use Aidells), sliced
1 garlic clove, minced
1 onion, chopped
Olive oil
¾ cup vodka (I use Titos)
1 (24 oz) jar pasta sauce (I use Classico)
3 Tbsp milk (almond milk can also be used)
1 cup grated parmesan cheese (and a little extra for garnishing)
16 oz of your favorite gf pasta (I used Ancient Harvest Quinoa Elbows)
Instructions:
In a skillet over medium heat, drizzle olive oil and add onion and garlic. Sauté. Add Sausage. Cook until lightly browned.
Slowly stir in vodka, scrapping up any browned bits in the bottom of pan. Reduce heat to medium-low and stir in pasta sauce. Simmer 8-10 minutes, stir often.
Stir in your milk and cheese.
Cook pasta according to box.
Drain pasta and add to your sauce. Stir to combine.
Garnish with parmesan cheese.
*Don't over cook pasta. Water will turn yellow and get a little thick, that's normal!
Enjoy!