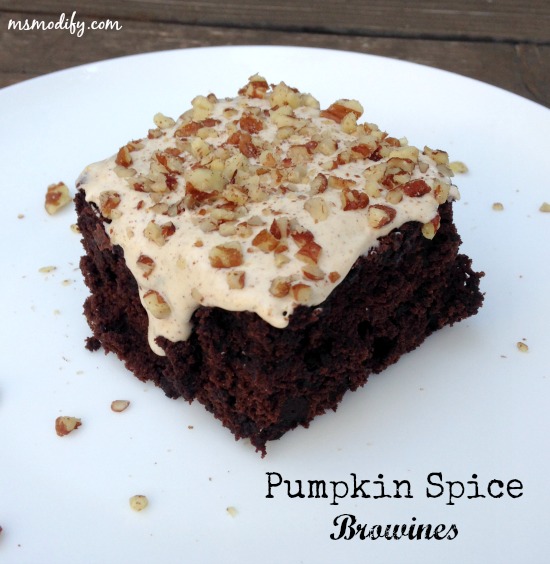 I don't even think these need an explanation. They are oh-so- good! The pumpkin makes them super moist but the taste is still subtle enough that it does not overpower the brownie flavor.  I hope you enjoy them as much as I do! 🙂
Ingredients:
Brownies:
1 Box Betty Crocker gluten free brownie mix
2 eggs
½ cup pure pumpkin (Libby's is gf)
1 tsp pumpkin pie spice (McCormick is gf)
Frosting:
About ¼ container (4-5oz) of Betty Crocker cream cheese frosting
1 Tbsp pure pumpkin
½ tsp pumpkin pie spice
1/3 cup chopped pecans, to top (I buy the brand "Orchard Fresh" from Wal-Mart, it says certified gf!)
Instructions:
Preheat oven to 350 degrees.
Grease 8×8 inch baking dish. Set aside.
In a medium bowl, combine brownie mix with eggs, pumpkin, and pumpkin pie spice. Mix until well combined. Pour into prepared pan.
Bake about 40 minutes, or until toothpick inserted in the middle comes out clean. Let brownies cool in pan.
Put about ¼ of the frosting (feel free to modify amount you use based on how much frosting you like) from container into a bowl. Add the pumpkin and pumpkin spice. Whisk until everything is evenly mixed together (I use my whisk attachment on my electric mixer).
Frost room temperature brownies and top with chopped pecans.
Enjoy!