As most people with celiac know, unfortunately there are going to be times where you're somewhere and there are no gluten free options for you to eat, and unless you have food on you, you're going to be hungry! Trust me I've learned this the hard way when I was first diagnosed. Now you can guarantee I always keep snacks on me. Most packaged goods that are easy to throw in my purse and won't go bad like crackers and cookies don't offer much nutritional value and leave me hungry. This is why at any given time you can open my purse and will find protein bars stashed.
I'm always on the hunt for protein bars that provide the most nutritional bang, so I was excited when NuGo reached out to me regarding their bars. Often times protein bars are made with maltitol, which is used as a sugar substitute and is known to cause bloating and gastric discomfort. What makes NuGo protein bars different than most is that they're the only company to make REAL Dark Chocolate coated protein bars.  Other 'dark chocolate' protein bars substitute unhealthy palm kernel oil for the natural cocoa butter, raising the melt point above body temp, making it waxy and too sweet.
NuGo offer's 21 bars that are certified gluten free and according to their website, "The FDA standard for labeling a product gluten-free is testing to ensure it contains less than 20ppm of gluten. At NuGo, all bars that say gluten-free on the label have been batch tested to below 10ppm, a stronger standard than the FDA requires. We manage allergens strictly during manufacturing, and all shared equipment is heat treated and cleaned before use with our gluten-free products in order for us to maintain the highest standard to ensure the products test below 10ppm." 
NuGo Slim Bar Flavors:
Crunchy Peanut Butter

Brownie Crunch

Raspberry Truffle

Toasted Coconut

Chocolate Mint

Roasted Peanut

Espresso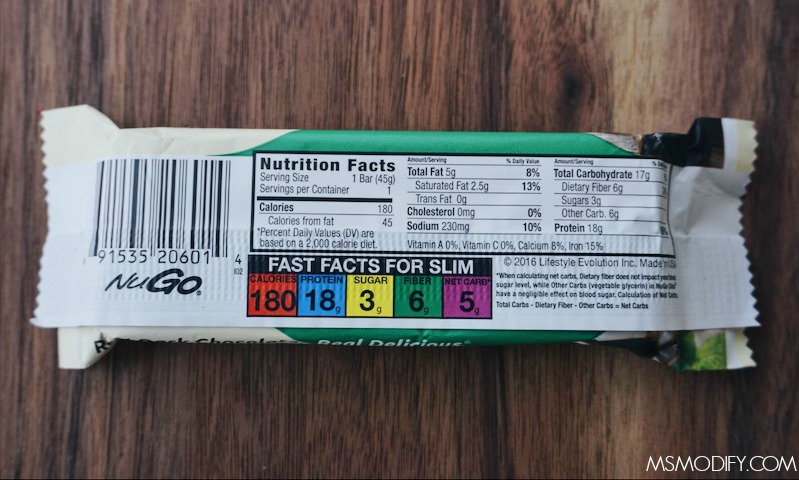 Facts About NuGo Slim Bars:
All are certified gluten free

Made with non-GMO ingredients

Only 2-3g of sugar

No Maltitol

16–18g of protein in every bar

Low glycemic index of 24

Free of artificial ingredients
I tried the Toasted Coconut and the Chocolate Mint bars, and enjoyed them both! I find that many protein bars leave you with that chalky weird taste (you know what I'm talking about!), whereas these didn't! They honestly taste more like a chocolate bar rather than a protein bar. It's obvious that being made with real dark chocolate plays a huge role in the texture and taste. In my opinion, you can't go wrong with chocolate and mint… as far as I'm concerned those two flavors were made for each other. With that being said, I'm a little bias towards the chocolate mint bar but I really enjoyed the toasted coconut too.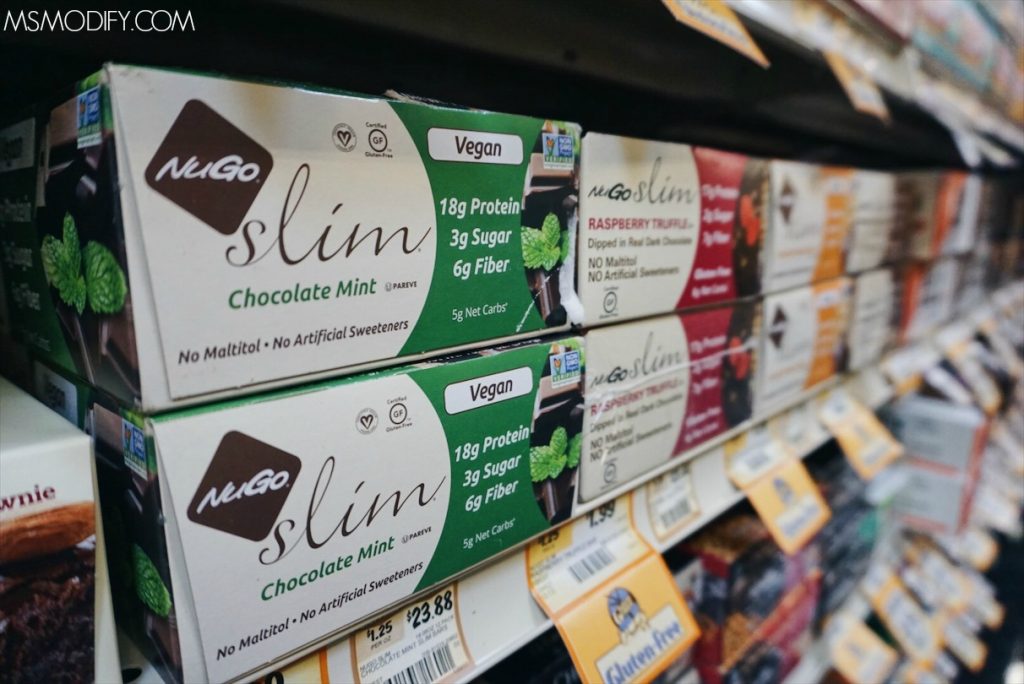 You can find these bars at most major grocery retailers or specialty stores. You can click here to find out where they sell NuGo bars near you.
Questions:
Are you a protein bar fan? 
Have you tried these NuGo Slim Bars?
*Thank you to NuGo for kindly providing me with these bars to try. All opinions are 100% honest & completely my own.