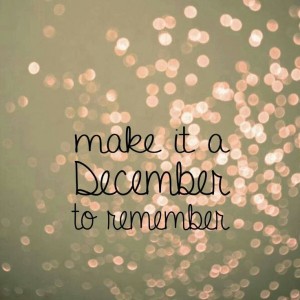 Happy December! I love the holidays, so naturally December is one of my favorite months! It has finally cooled off in Southern California and I'm able to wear my scarves and boots (well for us that's in the high 60's)!
I have a very busy couple months ahead with the wedding approaching, so before I dive into my December goals lets see how I did in November: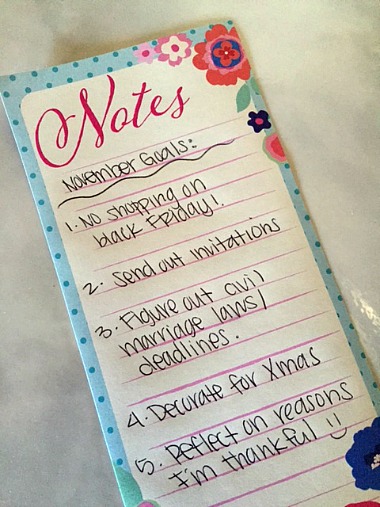 1. No shopping on Black Friday: Well… to my defense… Erik was working, my brother went back home, my dad wanted to watch football and my mom wanted to go to the mall. Therefore I couldn't be rude and let her go alone! 🙂 In all honesty, I can't help it! Besides the great deals I really love the crowds (I know) and the energy!
2. Send out invitations: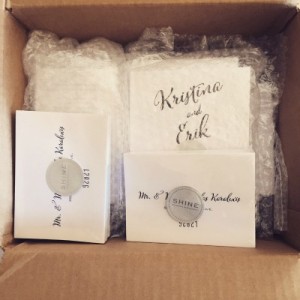 Done! Invitations were assembled, sent out and responses are coming back! I'm planning on doing an entire post dedicated to my invitations, so stay tuned!
3. Figure out civil marriage/deadlines: I figured everything out, but we have not done anything about this yet. I've mentioned it before, but we are getting married in the Bahamas therefore we have to legally get married in the US prior to our wedding there. We have decided we are going to have a civil ceremony at the courthouse and not make a big deal about it since we want our wedding in the Bahamas to feel special. We are however going to have both of our grandmas come and watch since they're unable to travel to our wedding.  I've been asked this a lot, and we are going to celebrate our anniversary as February 20th (the date from the Bahamas).
4. Decorate for Christmas: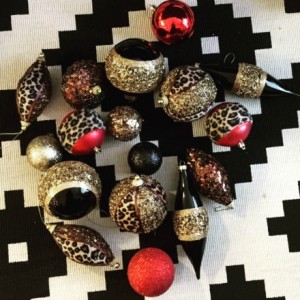 This past weekend Erik and I decorated the apartment! We had so much fun listening to Christmas music (football in the background for Erik) and decorating! I'm obsessed with our leopard ornaments (I bought them at Hobby Lobby). Next week I'll do a post showing all our decorations.
5. Reflect on reasons I'm thankful: This Thanksgiving (and I think Christmas will too) had more meaning to me than in past years. I think with the wedding coming up and all the planning, we tend to get caught up in things that don't matter so much in the big picture (the shade of pink or other small details). I've been trying to step back and put things into perspective and really enjoy all these moments. This is also my last holiday season before I'm a wife, so I'm trying to enjoy special moments with my parents. I really have reflected on everything to be thankful for and I feel beyond blessed.
November went by really fast, but it was a great month for me! Let's see what I hope to accomplish in December: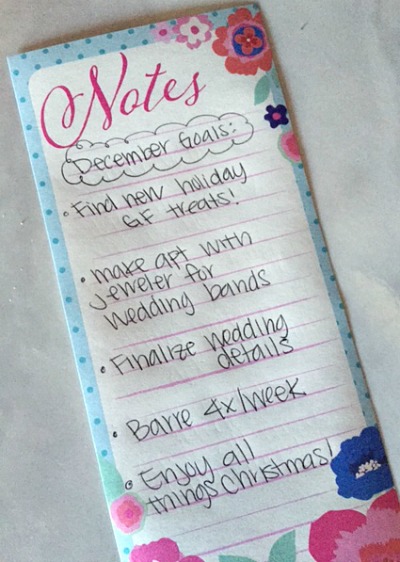 1. Find new holiday gluten free treats: This time of year there are always so many fun holiday treats in the stores but often times have gluten in it. In the past I've been bummed to miss out on these, but this year I'm determined to find gluten free holiday treats (maybe peppermint or gingerbread type items). If I can't find any, I'm sure I'll just modify goodies to make them holiday-ish and gluten free of course! 🙂
2. Make appointment with jeweler for wedding bands: This is so exciting! Erik had my engagement ring made so we will do the same with my wedding band so that it matches and doesn't take away from the side detail of my ring. You can see pictures of my ring and read our engagement story here.
3. Finalize wedding details: Planning a destination wedding and being Type A  is somewhat of an oxymoron! There are many lose ends that still need to be dealt with!
4. Attend barre 4x/week: I try to be faithful about my workouts but last month there were a lot of days I wasn't feeling so well, therefore didn't go as often as I'd like to. This month I'm planning on getting back on track!
5. Enjoy all things Christmas!: I love everything about Christmas and I want to make time to do fun holiday things this year!
There you have it!
Questions:
What are your goals this month?
What holiday traditions do you have that you'll be doing?
Please Share! 🙂