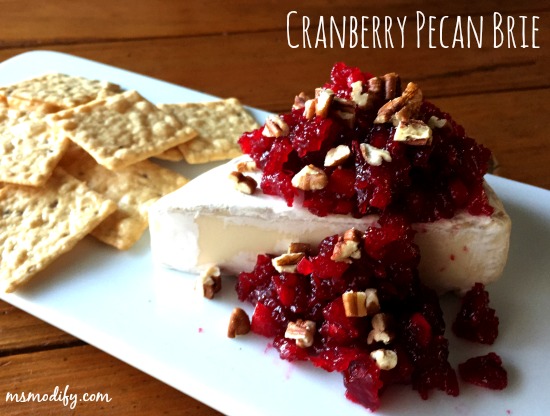 I came up with this recipe after Thanksgiving when I had leftover cranberry sauce and pecans. Let me tell you, I'm so glad I experimented with my leftovers… wow is this good!
The sweetness of the pecans, with the tartness of the cranberry scooped up with the creaminess of the brie on a salty cracker. Yum! Just thinking about it makes my mouth water.
I made this as an appetizer for Christmas Eve this year, and literally five minutes after I set it out it was gone… all gone!
This is the perfect holiday appetizer or for any party (or even to eat by yourself!).  It was such a big hit for Christmas Eve; I'm going to make it on New Year's Eve too!
Ingredients:
½ a serving of Apple-Orange Ginger Cranberry Sauce
1 Wedge of Brie Cheese (Spreadable or regular)
¼ cup chopped pecans
Instructions:
If using spreadable brie, gently remove from package and transfer to serving dish.
If using wedge or wheel of regular brie, place on a parchment lined baking dish and put into a 375 degrees preheated oven. Bake for about 10 minutes or until cheese begins to ooze from the sides.  Transfer brie to serving dish.
Top with cranberry sauce and sprinkle with chopped pecans.
Serve with gluten free crackers.
(You will have extra cranberry sauce, you can serve it with an additional cheese wedge or store in a covered container up to two weeks in the refrigerator).
Enjoy!