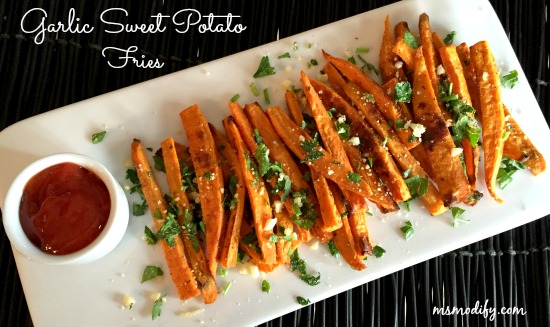 I have a confession. French fries are my weakness. I could easily do without chocolate, candy, desserts of any kind… but not French fries.
Good thing potatoes are gluten free because that would have been really hard to give up. I know they are not the healthiest thing for you, so I don't give into my cravings often. Instead of ordering them out, I now make baked sweet potato fries. They are healthy and sooo good!
Hands down, this is my favorite snack/side etc. Try these and I bet you'll no longer find the need for fast food French fries!
Ingredients:
(Serves 4-6)
4 medium sweet potatoes, peeled and cut into ¼ inch pieces
2 Tbsp olive oil
salt & pepper, to taste
2 garlic cloves, minced
¼ cup grated parmesan cheese
2 Tbsp fresh parsley, chopped
A pinch of cayenne pepper
Instructions:
Preheat oven to 400 degrees.
Place potatoes on a baking dish lined with parchment paper (or greased pan). Add olive oil and gently combine. Sprinkle with salt and pepper. Spread the potatoes out evenly.
Place in oven for 35-40 minutes, or until golden and crisp. Stir with a spatula half way through.
In a large bowl, combine garlic, parsley, cheese and cayenne pepper. Add the fries and gently combine all ingredients. Serve immediately.
Enjoy!