Is there anything better than a thick piece of warm banana bread? I think not. You probably have all these ingredients in your pantry and refrigerator… all you need to do is throw some pecans and cinnamon in and this will be your new favorite banana bread recipe!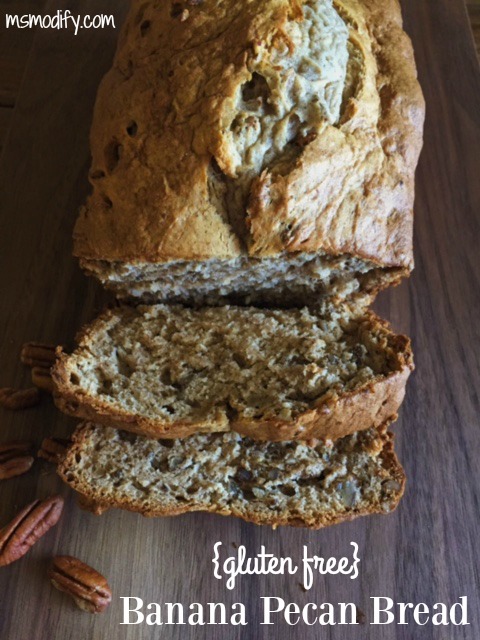 Banana bread reminds me of going to my grandma's house as a little girl. On any given day, you could open her freezer and find a loaf of frozen banana bread. That is what is so great about banana bread… it tastes just as good when you freeze it!
I took a classic banana bread recipe, used some gluten free flour and added cinnamon and pecans to get this moist banana pecan bread!
Ingredients:
1 egg
1 cup sugar
1/2 cup unsalted butter, at room temperature
1 teaspoon vanilla
1/2 cup buttermilk
2 overripe bananas, mashed
2 cups all purpose gluten free flour (I use Cup4Cup)
1/2 teaspoon salt
1/2 teaspoon baking soda
1 teaspoon baking powder
1 1/2 teaspoon cinnamon
1 cup chopped pecans
Instructions:
Preheat your oven to 350 degrees. Grease a loaf pan and set aside.
In a large bowl, beat sugar, egg and vanilla until evenly combined. Add butter and beat until smooth, then add in the bananas and buttermilk and continue to beat.
In another bowl, mix together the flour, salt, baking powder, baking soda and cinnamon. Slowly mix together wet and dry ingredients. Fold in chopped pecans.
Pour into your greased loaf pan and bake for 45-50 minutes, or until a toothpick comes out clean. (*This is based on using Cup4Cup flour. I've heard from people when using other brands, timing may need to be longer. If using another brand of gf flour, please time based off checking with a toothpick until it comes out clean!)

Enjoy!