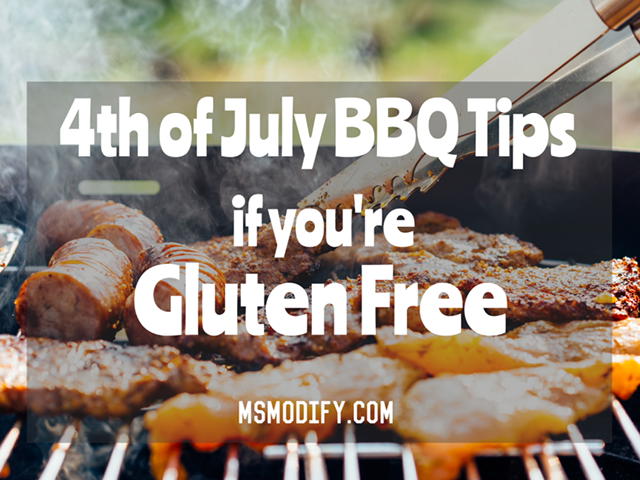 Summer means attending backyard barbecues with friends and families. This should be a time to eat and have fun, but for those people with celiac or that are gluten free, this can also be a difficult time. No longer stress about attending a 4th of July party, just learn to make small adjustments to fit your gluten free needs!
Steps to Avoid Gluten at a Summer Barbecue:
Bring a dish for everyone: This way you are guaranteed to be able to eat something! Try bringing two things- one to eat during the meal and another for dessert. Bring your own serving utensils or make sure you set some aside in order to avoid the risk of cross-contamination.
If the host insists they do all the cooking, bring your own meal: Sometimes people like cooking all the food when they have a party, and that's fine too, no need to stress! In these situations make sure you pack a meal for yourself.
Call ahead and find out the menu: This is good for two reasons- to figure out what you can eat and also to figure out what you should make if you need to bring your food and want to eat what everyone else is eating.
Know your alcohol: Avoid beer, unless it's labeled "gluten free". Stick to wine and distilled alcohol. Avoid pre-made mixtures and try to use soda or fresh fruit juice.
Find out which sauces are used: Gluten can be in bbq sauce and salad dressings, so make sure you read the labels before you eat them! If your host is serving salad, ask them to set aside some without dressing for you and bring your own (or you can always use oil and vinegar).
Be aware of the grill: If gluten containing foods are grilled on the grill, cross-contamination will occur. If the grill is large enough, dedicate a portion of the clean grill to gluten free foods. Chances are this can't happen, so use aluminum foil to protect your food.
Get non-marinated meat: Many marinates and seasonings contain gluten. Make sure you read labels and bring your own sauces. If your host doesn't have any, just stick to seasoning with salt and pepper before you grill.
Be careful with hot dogs/sausages: many hot dogs and sausages contain gluten, so read the labels!
Many Lays chips are gluten free: bring a bag for everyone! You can read the list of gluten free chips here!
Don't make it a big deal and have fun: If you are in control and act like it's not a big deal, chances are others will too! Just plan ahead and be prepared so you can enjoy yourself and not have to worry about what you can eat!
As always follow my motto "when in doubt, go without!".
Happy Grilling! 🙂