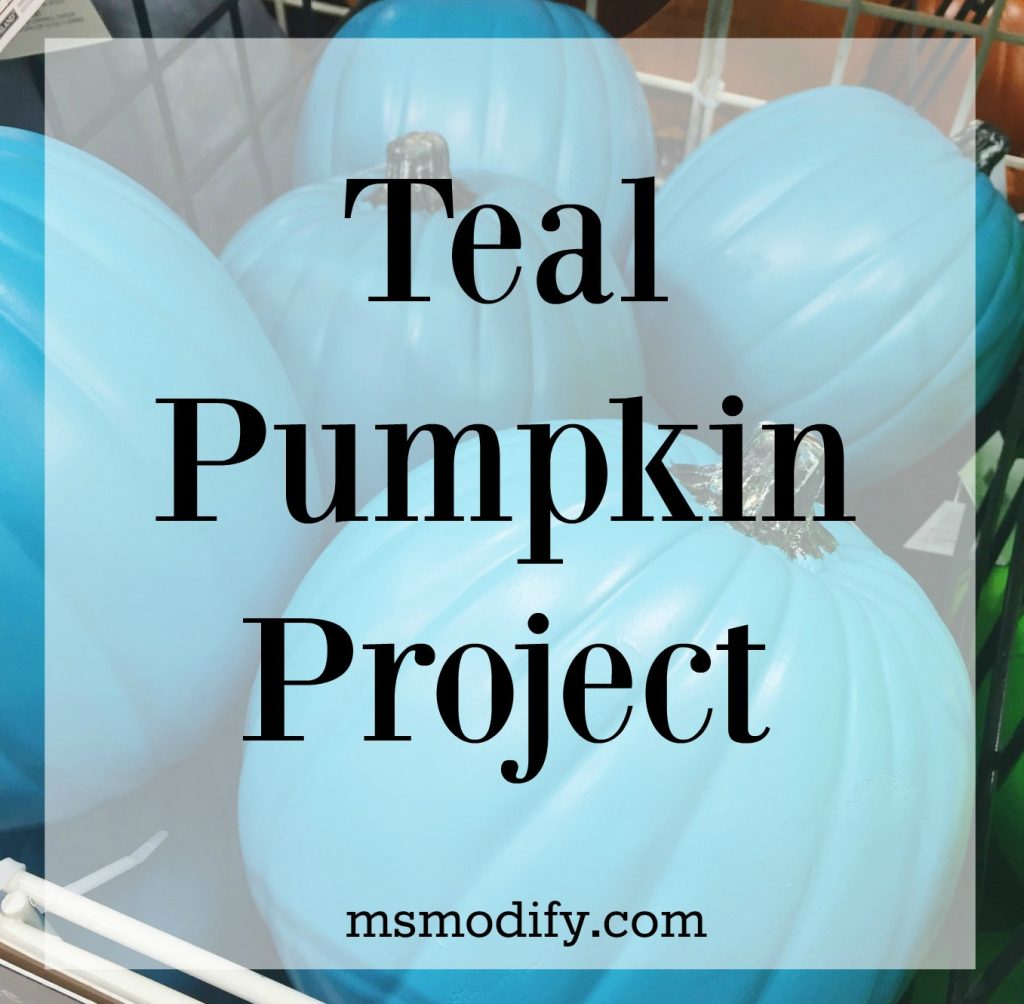 Have you seen teal pumpkins popping up in stores or even throughout your neighborhood? Yes, they look cute but that's not the reason for them. Teal pumpkins are part of the allergy-free Halloween movement known as the Teal Pumpkin Project.
What is the Teal Pumpkin Project?
In 2014 the Teal Pumpkin Project became a national movement after Food Allergy Research & Education expanded the idea that was started by a mom in Tennessee. The teal pumpkin outside a house represents a sign to trick-or-treaters that there is a non-food treat available at that house.
Why is this important?
According to Food Allergy Research & Education (FARE), it's estimated that 1 in every 13 children (under the age of 18) has a food allergy. That's about 2 in every classroom!
Not only are food allergies and conditions like celiac disease a very serious medical issue, but they can also impact a child's social and emotional development when they feel they're left out due to their allergies/illness.
Every child deserves to experience the fun of trick-or-treating on Halloween and not feel excluded due to their dietary restrictions. The Teal Pumpkin Projects asks for participants to offer a non-food treat.
What can I pass out on Halloween?
You don't need to spend a lot of money to participate in the Teal Pumpkin Project, you can simply go to the dollar store, dollar section of Target or even a party supply store that sells little prizes in bulk.
Some ideas include:
pencils, erasers, crayons
bracelets, necklaces, glow sticks
hair clips or accessories
bubbles
slinkies
kazoos or other noisemakers
bouncy balls
yo-yos
spider rings
vampire fangs
stickers
pencil toppers
mini coloring books
rubber stamps
mini army men
*Be careful with Play-Doh as it contains wheat 
*I found bulk prizes here! 100 items included for under $20!
So I can't pass out candy?
You absolutely can still pass out candy, but make sure you do it safely! What do I mean by safely? Keep your candy in one bowl and your non-food treats in a separate bowl. The purpose of the Teal Pumpkin Project is to make trick-or-treating as inclusive as possible, so we want everyone to have fun together!
When trick-or-treaters come to the door, you can either ask who has food allergies or tell them to pick from either bowl (this way they don't feel like they stand out). Most kids with food allergies are very aware of them and will know to select the non-food option or many times parents will be with them to make sure.
How can I participate in the Teal Pumpkin Project?
Mark your house as an allergy-friendly spot for trick-or-treaters by either placing a teal pumpkin outside (you can paint a pumpkin teal or I just saw plastic teal pumpkins at Michaels Craft Stores!) OR you can simply download a free printable sign to place outside your house. I also found this cute garden flag to place in your front yard!
Buy non-edible treats (along with candy treats if you'd like).
Have fun passing treats out!
To learn more, check out the Teal Pumpkin Project website! 
*MsModify is a participant in the Amazon Services LLC Associates Program, an affiliate advertising program designed to provide a means for sites to earn advertising fees by advertising and linking to amazon.com