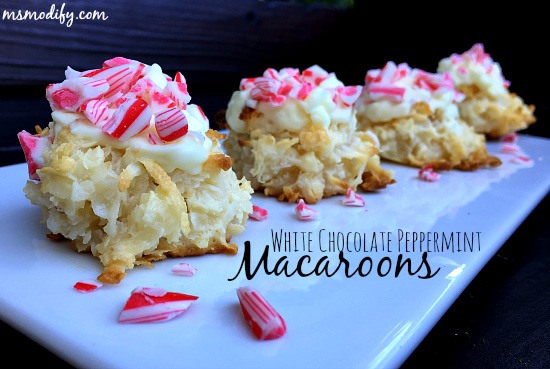 I love coconut! Apparently there is a lot of hype on how good it is for you…so I say let's make macaroons!
These are so simple to make and yet look really impressive. Did I mention how good they taste?! I think these are my new baking obsession.
These are the perfect treat this holiday season!
Modified from Mixandmatchmama
Ingredients:
(Makes about 24 cookies)
1 (14 oz) bag of sweetened coconut flakes
1/3 cup gluten free all purpose flour (I use and love Cup 4 Cup)
1 (14 oz) can sweetened condensed milk
1 tsp vanilla
½ tsp salt
8 oz white chocolate chips
About ¾ cup crushed candy canes
Instructions:
Preheat oven to 325 degrees.
Line pan with parchment paper and set aside.
In a mixing bowl, combine coconut, gf flour, milk, salt and vanilla. Stir until evenly mixed.
Drop about two tablespoons full onto parchment paper (you don't need to worry about leaving too much room between because cookies will not expand).
Bake for 20 mins.
Remove from oven and let cool for a couple mins.
Microwave chocolate chips in a microwave safe bowl in 30 sec increments (stir) until melted.
Drizzle melted chocolate on each cookie. Immediately sprinkle crushed peppermint on top.
Enjoy!