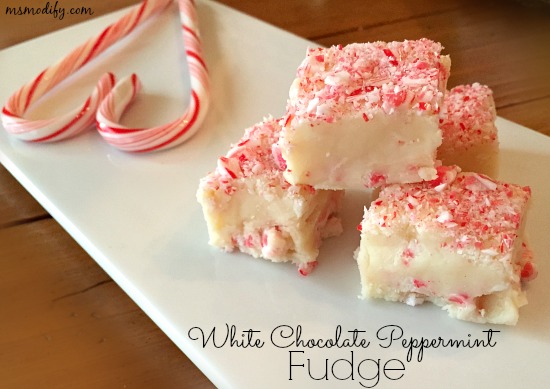 I have a confession to make. I'm not a huge chocolate fan. Yup, I said it. I know. I know.  Crazy right?!
Fudge has never been my thing either, but I love peppermint so I thought I would give it a try with white chocolate and add peppermint.
Wow… I think I've been missing out because this turned out so good! Like really good!! I typically only try a bite or two of what I make. But no joke, every time I walked into my kitchen I snuck a little piece! 🙂
Ingredients:
3 cups white chocolate chips
1 (14 oz) can sweetened condensed milk
6 candy canes, crushed, divided
Instructions:
Line an 8 inch square baking pan with parchment paper or foil. Spray with cooking spray and set aside.
In a medium saucepan over low heat, combine the chocolate chips and sweetened condensed milk. Stir until it's all melted and smooth. Add in half of the crushed candy cane and mix together well.
Pour into the prepared pan and spread to make it even. Top with remaining crushed candy cane. Refrigerate for 2 hours.
Lift the parchment paper/foil out of the pan. Peel fudge out. Cut into small squares.
Enjoy!