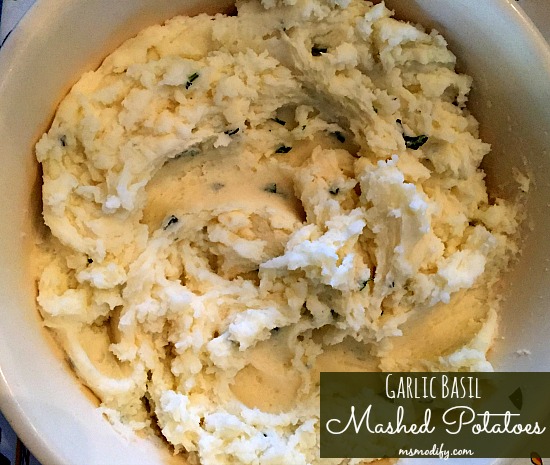 Mashed potatoes are a staple in my family for every holiday. I have tried them made different ways and this is by far my favorite!
 I'm someone that gets an upset stomach easily and garlic will often do it, but I have a secret… if I roast garlic until soft it won't give me a stomach ache! Oh, and it tastes amazing! If you've never tried it I highly recommend you do!
Ingredients:
(Serves 8-12)
6 baking potatoes, peeled and cut in 2 inch chunks
2 Tbsp olive oil
1 head of garlic,
4 Tbsp butter
1/2 cup of milk
Salt and pepper, to taste
½ cup fresh basil leaves, chopped fine
Instructions:
Preheat oven to 375 degrees.
Cut off the pointed top portion of the head of garlic (leaving bulb intact).
Place garlic in foil, drizzle with olive oil and cover completely. Bake in oven for 45 minutes or until cloves are soft. Remove and let cool. Once cooled, squeeze out the garlic into a small bowl.
Place potatoes in saucepan and add water to cover about 1 inch. Bring to a boil and cook uncovered for about 20 minutes or until tender. Drain potatoes and add to a bowl.
In saucepan, add milk and butter to low heat. Mix until butter is melted.
Mash potatoes well with a fork or potato masher. Add in butter mixture, garlic and basil. Mix well. Generously season with salt and pepper. Serve warm.
Enjoy!