I thought I would share with you the process of ordering our "Save the Dates". Let me tell you, YES I'm having fun planning my wedding and I know no matter what it will be the best day of my life. BUT, I really think the 23 year old me would have had way more fun! I'm not sure if it's because I'm more mature and practical now, or because I'm really busy/stressed out with other aspects of my life… but I cannot worry about the right shade of pink or minor details that really won't matter a year from now!
This is why I'm THRILLED to be having a small destination wedding. No matter what, having the background be the Bahamas will make it gorgeous. If you know me, then you know I'm a perfectionist and a control freak… so this is out of my comfort zone; not being able to be there to plan all the details. For some reason, I'm loving it and it really helps me to focus on the big picture… my marriage! 🙂 (*side note: the only thing I'm stressed about and am being a control freak about is my food; making sure I don't get sick on our trip!)
Okay, enough of that. Erik and I knew from the very start we wanted some sort of destination wedding; whether that be two hours from home or 2,000 miles from home! Once we made our guest list, we immediately knew we wanted a far destination wedding to ensure a small intimate wedding with just our closest family and friends.
I had been searching Pinterest/Etsy to find Save the Dates I loved. Since we are getting married in another country, sometimes communication can be an issue (I like to say they're on island time!), therefore it took us a while to secure the date. With that being said, we had to get the Save the Dates out ASAP! I went back and fourth about getting traditional ones or ones that resemble a destination wedding. I just knew we didn't want our picture on them… that's so not us! Here were my favorite traditional ones: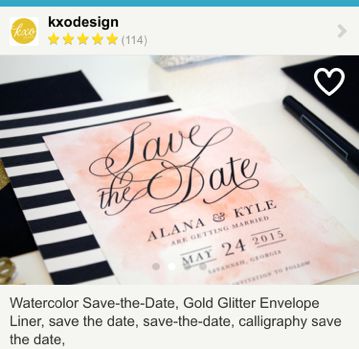 But at this point I didn't know our colors and didn't want to commit to pink and navy! Then I thought, should we do typical destination wedding ones?! These were my favorites:
Honestly, we knew we didn't want our wedding to be a cliche destination wedding… a beach theme. So these were out. I still think they're really cute though! 🙂 We decided to pick ones that still work for a destination wedding, yet that's a little more stylish and not committing to colors or a theme. Here are our Save the Dates: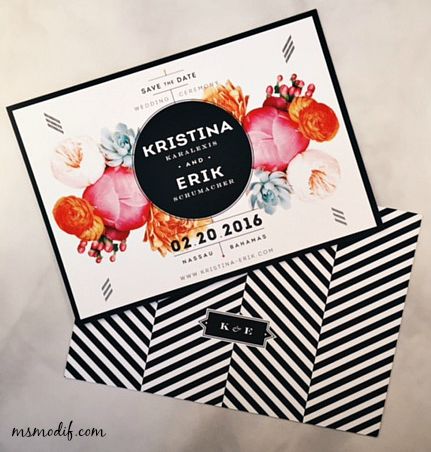 We love them! We ordered them off Esty through KLynx Designs. She was extremely helpful and super quick with everything. I had her customize certain aspects and change the original design a few times, and each time she was very excited and willing to do it. I highly recommend her services! She has sooo many designs to chose from and does other items besides "Save the Dates".
For our wedding invitations, we are going with something a little more traditional/simple. I will be sharing those later! Thanks for being a part of our journey!!