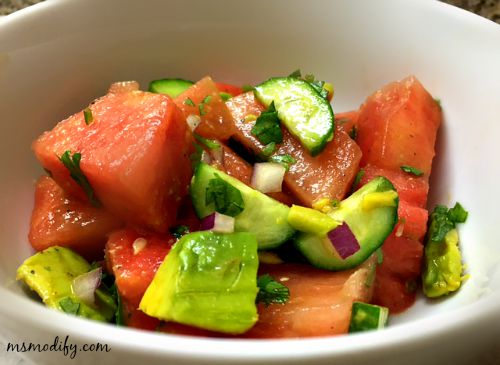 When I think of summer, I think of watermelon. This watermelon, cucumber and avocado salad is my new favorite summer food. I literally can eat this every day. It's very refreshing with a little kick to it! I hope you love it as much as I do!
Ingredients:
1 seedless watermelon, cut into 1 inch cubes
2 avocados, pitted and sliced or cubed
4 Persian cucumbers, cut
2 tablespoons fresh lime juice
1 tablespoon olive oil
1/3 cup freshly chopped cilantro
¼ red onion, chopped
salt and pepper to taste
cayenne pepper, a pinch
Instructions:
Place all ingredients into a large bowl. Gently stir until everything is evenly mixed and coated with olive oil and lime juice.
Enjoy!