This is a recipe that is very dear to me. My mom has been making this since I was a little girl. I never was a picky eater… bring on those veggies and I was there! I literally used to take this in my lunchbox to school when I was young.
These squares are the perfect breakfast, lunch, snack or even appetizer (if you cut them smaller) and they are so easy to make!
I hope this will become a favorite in your house too! 🙂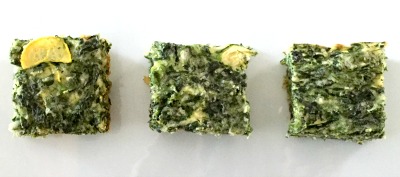 Ingredients:
½ cup onion, finely chopped
1 cup zucchini, thinly sliced
1 cup yellow squash, thinly sliced
1 cup frozen spinach, thawed and drained (squeeze out all water)
½ cup Italian parsley, finely chopped
½ cup fresh dill, finely chopped
½ tsp salt
½ cup vegetable oil
4 eggs
1 cup gluten free Bisquick
½ cup Parmesan cheese
Instructions:
Preheat oven to 350 degrees.
Grease 9×13 pan and set aside.
Beat vegetable oil, eggs, and Bisquick. Mix together for about one minute.
Add the rest of the ingredients and blend well.
Pour into prepared pan and bake for 30 minutes or until lightly browned and toothpick inserted comes out clean.
Allow to cool, then cut into squares and serve.
Enjoy!