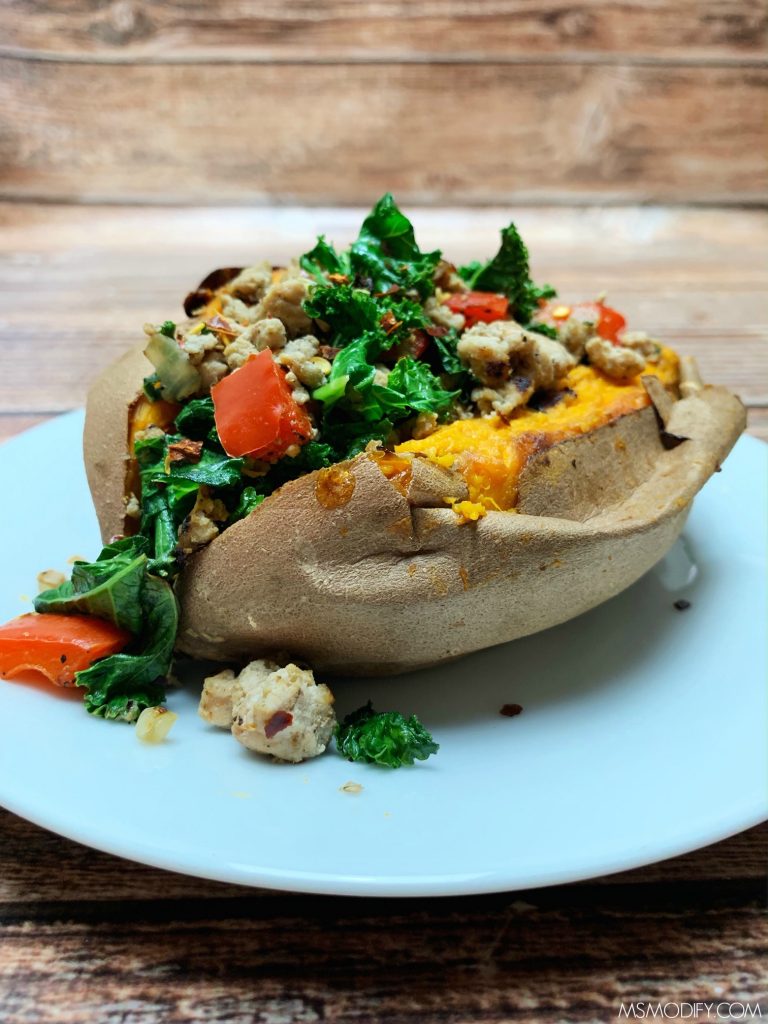 Have you ever stuffed a sweet potato? If not, then you're in for a treat with this recipe! You know I love a good stuffed sweet potato for breakfast… but it's also a big hit for dinner!
This is a hearty, yet healthy meal… especially if you're doing Whole30! If you follow me on social media, then you saw I shared this meal recently and showed you how I repurposed the leftovers for breakfast the next morning. I've said it before, but leftovers are a game changer for breakfast when doing Whole30!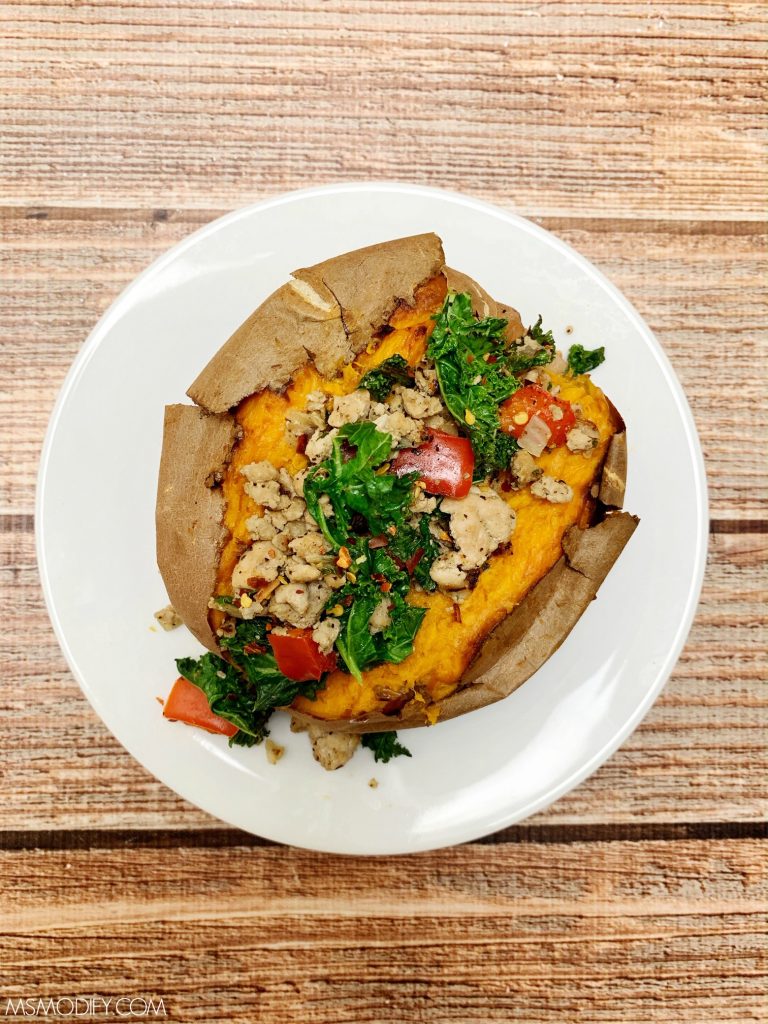 In this recipe, you have the option to bake 4 sweet potatoes and stuff them or just bake 2 and use the leftover filling for breakfast!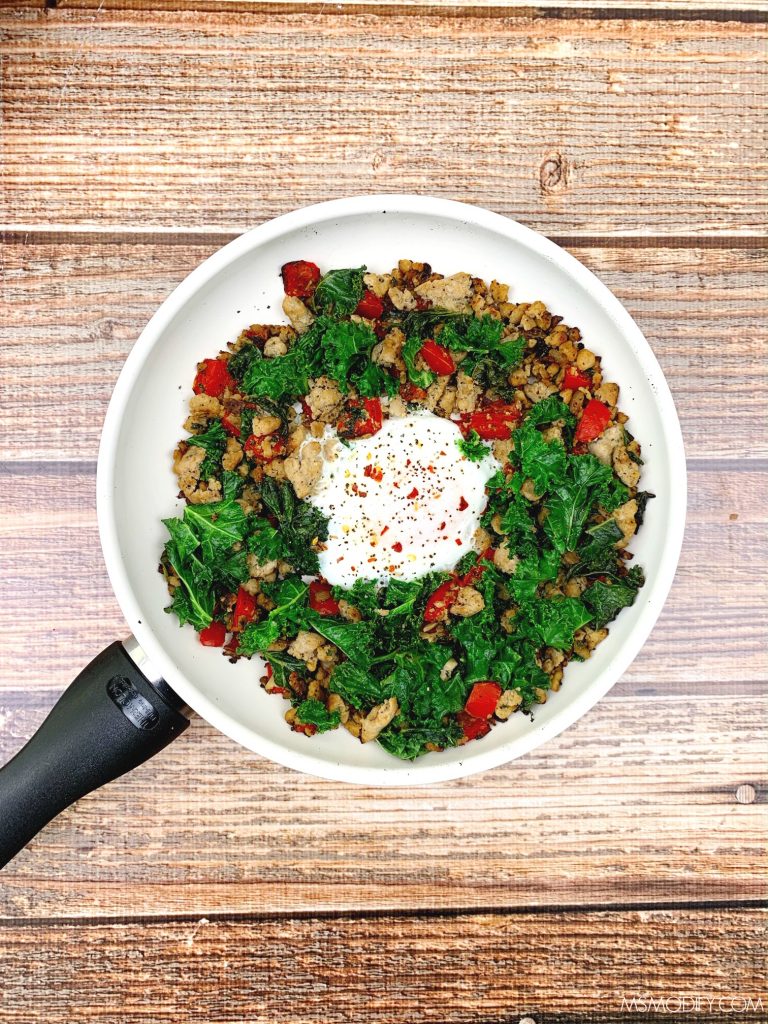 Turkey, Pepper & Kale Stuffed Sweet Potatoes
This is a hearty, yet healthy meal… especially if you're doing Whole30!
Ingredients
*2-4 sweet potatoes,

baked

Olive oil

1

lb

ground turkey

1

onion,

diced

1

red bell pepper,

diced

4

garlic cloves,

minced

2

cups

of kale,

chopped

Salt & pepper,

to taste

1

tsp

Cumin

1

tsp

Oregano

¼

tsp

Crushed chili flakes
Instructions
Drizzle olive oil in pan over medium heat, add onion and bell pepper and saute for a few mins until softened.

Add ground turkey and garlic, breaking it up with your spoon.

Season with salt, pepper and cumin.

Cook until turkey is no longer pink.

Add kale and cook until wilted, then sprinkle crushed chili flakes.

Cut baked sweet potatoes lengthwise through the middle and stuff them with your turkey mixture.
Recipe Notes
Optional: If you want leftovers for breakfast, the next day take your leftover turkey mitxture and heat up in a pan. Add 1 cup of chopped kale and cook until wilted. Spread mixture to edges of pan and cook an egg(s) in the middle.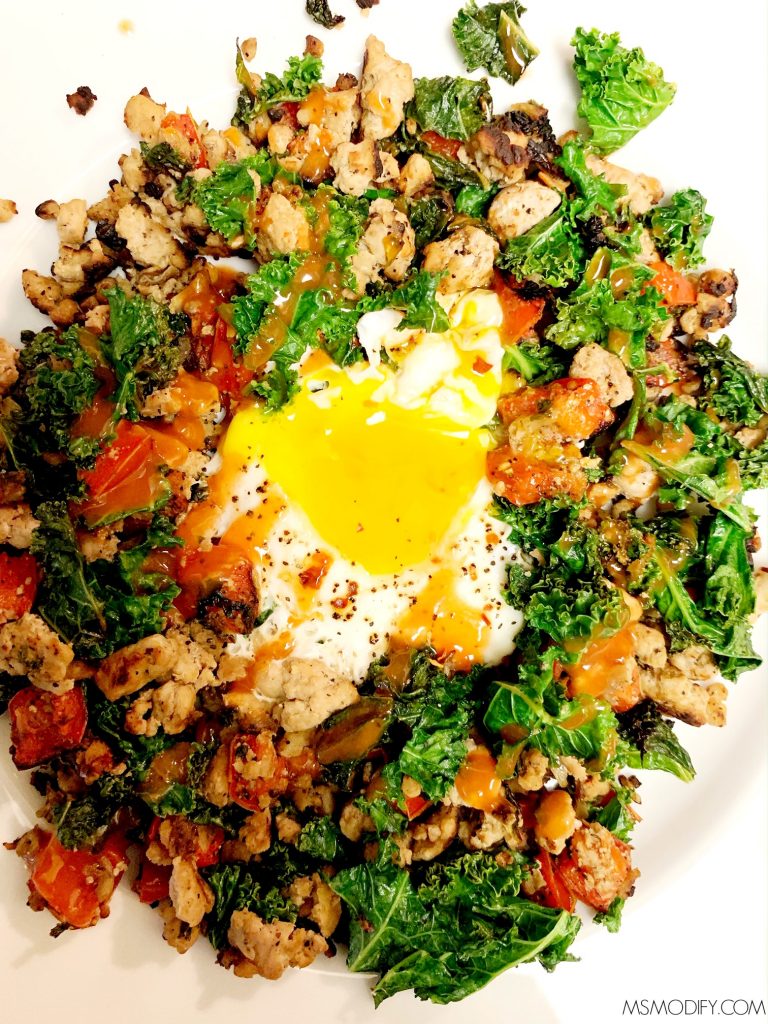 My leftover breakfast! 🙂
Enjoy!