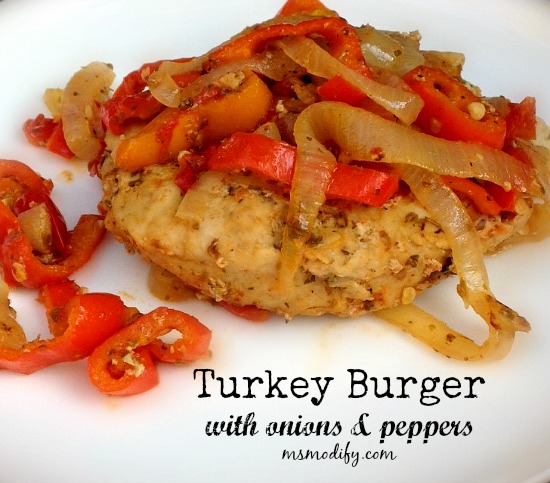 This is my go to dinner when I've worked late and need something quick that doesn't take much thought. I also love a barbecued burger but this is easier for me since everything is in one pan, so I have less clean up to do! Throw together a salad and there you have it my friends… dinner made easy! You could totally put this on a bun (gf of course) or even make an open face sandwich using one side of the bread, but honestly all of the yummy flavors from the onions and peppers are so good that for me personally the bread takes away from the taste. It's up to you 🙂
Ingredients:
4 turkey burger patties (can also use beef or chicken patties)
1 white onion, sliced
2 bell peppers (I use red and yellow for color), sliced
1 Tbsp olive oil
1 tsp oregano
½ tsp garlic powder
A pinch of salt
A pinch of pepper
1/3 c. white wine
10 cherry tomatoes, chopped
Sriracha hot sauce (*optional)
Instructions:
Add onions, peppers, olive oil, oregano, garlic powder, salt, and pepper to pan and sauté on medium heat. Once onions and peppers are halfway cooked (will become translucent) add turkey burgers, wine, and chopped tomatoes to pan and continue to cook all ingredients together.
You can add a little Sriracha sauce to each patty (salsa, ketchup, or barbecue sauce could be used too). Cook until burgers are cooked through, about 15 minutes. Remove patties and top with peppers, onions, and tomatoes.
Enjoy!