These gluten free pumpkin cookies are so soft, they melt in your mouth!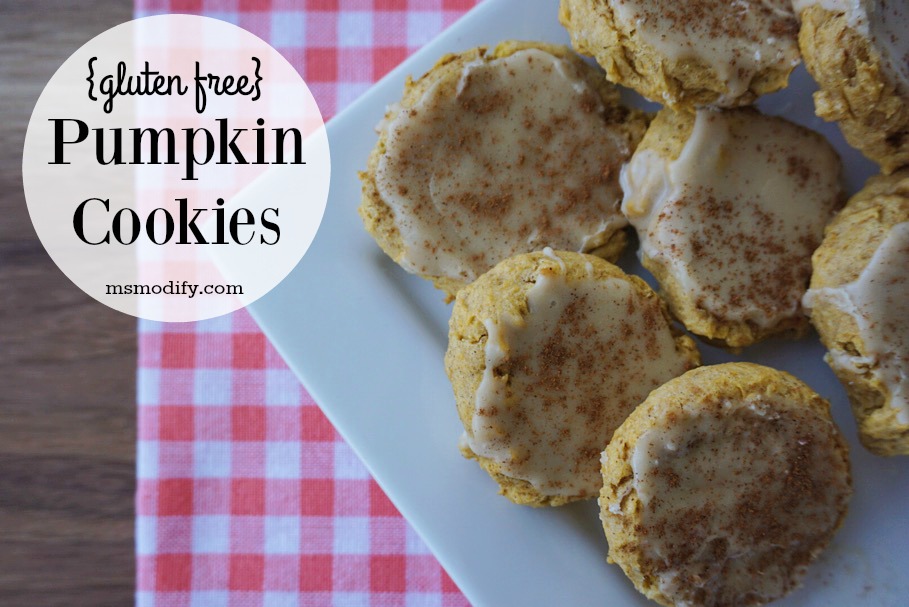 In my opinion, from September 1st- December 1st is officially pumpkin season! I can't get enough of everything pumpkin… and if fall were a cookie, it would be these pumpkin cookies! These are so soft, not only do they melt in your mouth…but no one will ever know they are gluten free!
I must warn you though… there is a chance you will eat more than you plan! I admit it, Erik and I took these to my parents house and we ate them all in the course of 2 days… 30 cookies! Yes, that's right… 2 days, 30 cookies, 4 people… you do the math and please don't judge!
Recipe modified from: BHG
Ingredients:
1 cup butter, softened
1 cup brown sugar
1 tsp baking powder
1 tsp baking soda
1/2 tsp salt
1 tsp pumpkin pie spice
1 egg
1 tsp vanilla
2 cups gluten free flour (*I always use Cup4Cup)
1 cup pure pumpkin
Frosting:
1/4 cup butter
1/4 cup brown sugar
2 Tbsp milk
1/2 tsp vanilla
1 1/2- 2 cups powdered sugar (until desired consistency)
cinnamon, to sprinkle on top
Instructions:
Preheat oven to 350 degrees.
In a large bowl beat butter with electric mixer on medium for about 30 seconds.
Add in brown sugar, baking powder, baking soda, salt and pumpkin pie spice and mix until evenly combined.
Beat in egg and vanilla until combined.
Add in pumpkin.
Slowly add in flour until evenly mixed.
Drop heaping Tablespoons of dough 2 inches apart on baking sheet.
Bake for 12 minutes, then with the back of a spoon flatten down a little and continue to bake for 2 more minutes.
Remove from oven and allow to cool before you frost.
Frosting:
In a small saucepan heat butter and brown sugar until smooth.
Transfer to a medium bowl and stir in milk and vanilla.
Beat in powdered sugar until smooth.
Spread frosting on cookies and sprinkle with cinnamon.

Enjoy!