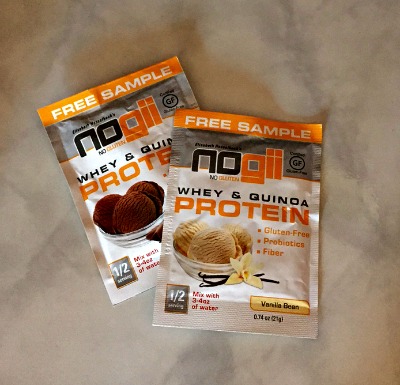 I'll be honest; I've never been a fan of the idea of protein powders. My feeling has always been I would rather eat real whole foods and get my protein that way, rather than make protein shakes.
I met a rep for NoGii at the CDF Expo and she gave me a few samples to try. So, I thought I'd give it a try and share some info on it!
For those of you that don't know about NoGii, it's Elisabeth Hasselbeck's (she has Celiac) brand of protein bars and protein powder. The protein powder comes in both vanilla bean and cocoa chocolate.
Some Facts:
-Derived from whey and quinoa
-20g of protein per serving
-7g of fiber per serving
-No artificial sweeteners, added colors or artificial flavors
-Certified gluten free
-Contains probiotics
Ingredients: Protein Blend (Whey Protein Isolate, Milk Protein Isolate, Quinoa, Sodium Caseinate), Prebiotic Fiber, Cane Sugar, Natural Flavors, Sunflower Oil, Maltodextrin (from corn), Xanthan gum, Sodium Chloride, Potassium Citrate, Sodium Citrate, Stevia Extract, Bacillus Coagulans
Allergens: Contains Milk and Soy
You can just mix the powder with water and there you have it, a protein drink. Super quick and easy!  I chose to make a smoothie with it. I had a sample pack which is 21 grams of the protein powder (1/2 a serving).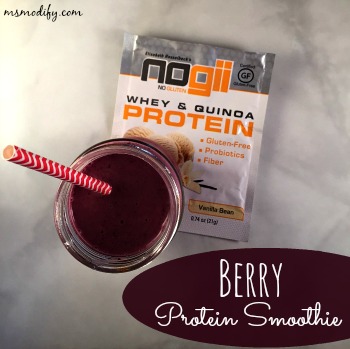 Ingredients:
1 Sample pack of vanilla bean protein powder
4 oz almond milk
½ cup mixed frozen berries
I put all the ingredients into my blender and blended it until the berries were evenly crushed.
 I was pleasantly surprised by how it tasted. It tasted a little like cake batter (with berries!). Even though it was just half a serving, it did make me feel full for longer than I expected. I'm glad I gave this product a try; I'm no longer as skeptical of protein powders as I was before!
You can find a store near you that carries these products by clicking here.
All opinions are 100% my own!