I went through my giant goodie bag from the CDF Expo and pulled out my favorite products that I want to share with you! Here you go: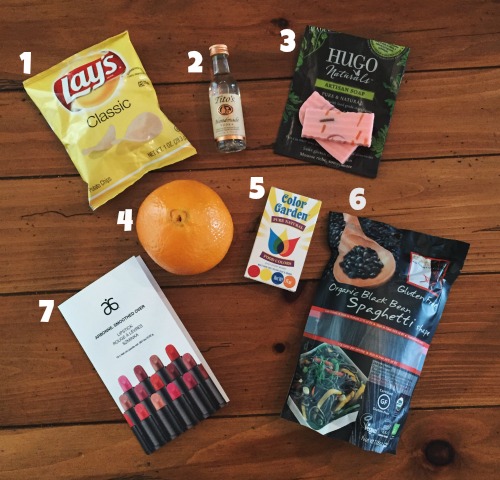 1. Lay's Classic Potato Chips: Okay, so I know what you're thinking! Really, Kristina?! Yes… Really! So, I admit chips are my weakness and I feel guilty about that. I was so excited to find out that these chips only contain potatoes, oil and salt! No ingredients that I can't pronounce (and that are really bad for you)! Also, I learned that in 2012 Frito-Lay announced a multi-year initiative to validate products as gluten free and label packages accordingly. They are testing all products to make sure they do not exceed 20 parts per million before labeling them "gluten free ". Yay for chips!
2. Tito's Handmade Vodka: So I knew about this product before the convention and was so excited to see their booth! Tito's is made in Austin, Texas and is Texas' first and oldest legal distillery. It is distilled six times from 100% corn and is certified gluten free! I know many people argue that all distilled alcohol is gluten free due to the distillation process, but I know I still get sick from alcohol derived from gluten containing grains. I love the peace of mind that Tito's is certified gf! Cheers! 🙂
3. Hugo Naturals Artisan Soap: I don't know about you, but I love having fancy soap in my bathroom (especially for guests)! Typically I've found the prettier the soap the higher chance there is gluten it. I was so excited to talk with Hugo Naturals and learn all their products are: pure & natural, certified gluten free, 100% vegan, 100% soy free, no animal testing, hand crafted in small batches and sustainably sourced! They have everything from body care, hair products to even nail polish! You can find where to buy their products here.
4. Farm Fresh To You: This is the booth I was most excited for! Basically how this works is they have farms throughout Northern and Southern California and grow all organic/nonGMO produce and they ship a box straight to your doorstep! I signed up for it and went online to customize my order (so food doesn't go to waste, you pick exactly what you want). I will be receiving my first box in a couple weeks! (This service is only for California residents)
5. Color Garden Dyes: This product wins as my favorite product at the expo! These food dyes are completely natural, nonGMO, gluten free and 100% plant-based. I'm beyond excited to try these! I always find cute baked goods on Pinterest, but they require food coloring and I'm so against putting those chemicals into the food I make. Now I get to modify my favorite treats using these dyes!
6. Explore Asian: After discovering their bean pastas, there is no reason to cook corn or rice based pasta anymore! They have different types of bean pasta (black bean, edamame, soybean, mung, etc) all containing 20-25 grams of protein per serving and are low in carbs and sodium, while high in fiber. All their products are vegan, organic, gluten free and kosher. In addition to the nutritional benefits, they taste so good!
7. Arbonne Smoothed Over Lipstick: You know I love my lipstick! (no joke, my first word as a baby was "lip lick") I met an Arbonne consultant at the expo and she gave me some sample lipsticks to try. It went on very smooth and lasted a few hours. If you've ever tried natural lipsticks, then you know typically they don't last long. Therefore, I was pleased that this one lasted a few hours. I love the "Lotus" color. Arbonne's products are natural, vegan and gluten free. I'm excited to learn more about their other products! All products sold online only.
If you have a favorite gluten free product from the expo or just in general, please share!!