Marinated artichokes, cherry tomatoes and balsamic vinegar are a winning combination every time! Throw them in the mix with chicken thighs and you get a complete dinner that is sure to please everyone!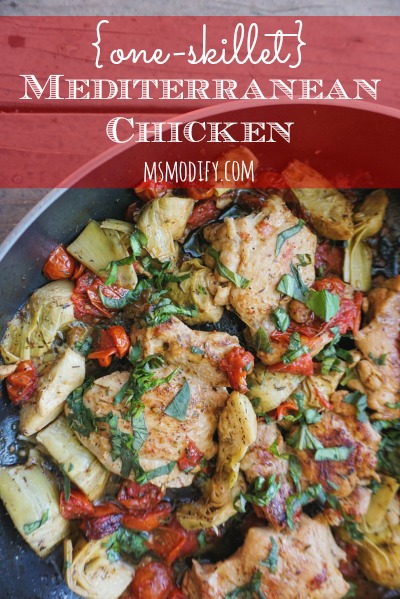 One-skillet dinners are always my favorite! Who doesn't want to only wash one pan?! This Mediterranean Chicken is one of my favorite things to make… not only is it really simple, but it is also delicious!
I typically don't cook chicken thighs because they are fattier than breasts, but when I do I sure love them! This Mediterranean Chicken doesn't even call for a knife, since the chicken is so moist.
Ingredients:
1.5 lbs chicken thighs (about 6 thighs)
1 pint cherry tomatoes
1.5 cups marinated artichokes
1/2 tsp dried oregano
1/4 tsp dried thyme
1/2 tsp salt
1/4 tsp black pepper
3 Tbsp balsamic vinegar
6-8 leaves of fresh basil, torn
Instructions:
Drizzle a couple tablespoons of oil from the marinated artichokes in pan over medium-high heat.
Sear chicken on each side for about 3 minutes.
Toss in marinated artichokes and tomatoes. Add in seasonings and balsamic vinegar.
Lower heat to medium. Cover with lid and let simmer for about 10 minutes.
Increase heat to high until most of the liquid evaporates. Flip chicken occasionally. Cook until chicken is browned on outside and cooked through.
Remove from heat and top with fresh basil. Serve immediately

Enjoy!