This is a sponsored post written by me on behalf of Tom's of Maine. All opinions are 100% mine.
For the most part I've always tried to eat healthy and being aware of of the ingredients in the foods I selected, especially packaged and prepared foods, was an important part of my buying decisions. There were certain ingredients I would try and avoid such as "msg",  artificial colors, additives and preservatives.
Five years ago my decision making took on a very serious meaning when I was diagnosed with an autoimmune disease called celiac, where the ingestion of gluten leads to damage in the small intestine resulting in a wide variety of symptoms from joint pain and brain fog to hair loss.
Getting diagnosed with an autoimmune disease and completely eliminating  gluten from my diet has been a life changing experience. Now I try to buy only organic and non-GMO produce, hormone-free meat, limit my intake of processed foods and use as many natural personal care products as possible.
Transitioning to a gluten free life was challenging at first. Not only would I spend hours (literally!) at the grocery store reading labels to figure out what I could and couldn't buy, but I still wasn't feeling good even on a gluten free diet.  It took a while to figure out what I was doing wrong because I knew I cleaned out my kitchen, intensely read labels and was aware of everything I ate.The area of my life I didn't change at first were my beauty/personal care products and it turns out those were making me sick! Fortunately this was around the same time I started shopping at Sprouts Market, where they clearly label their shelving for gluten free items.
 I'll be the first admit, I used to buy my beauty/personal care products based on packaging, smell and product reviews! Once I realized many of the products I was using contained gluten and were making me sick, I had to completely overhaul everything in my bathroom from my shampoo to face wash, but most importantly my oral care products. Fortunately I was already familiar with Sprouts Market since I was buying my groceries there, I decided to head over to the personal care aisles. I was pleasantly surprised that Sprouts stocked a wide offering of organic, gluten free personal care products for adults and children. Everything from toothpaste, dental  floss, shampoo, face oils/moisturizer, makeup, essential oils and deodorants were clearly labelled and well stocked.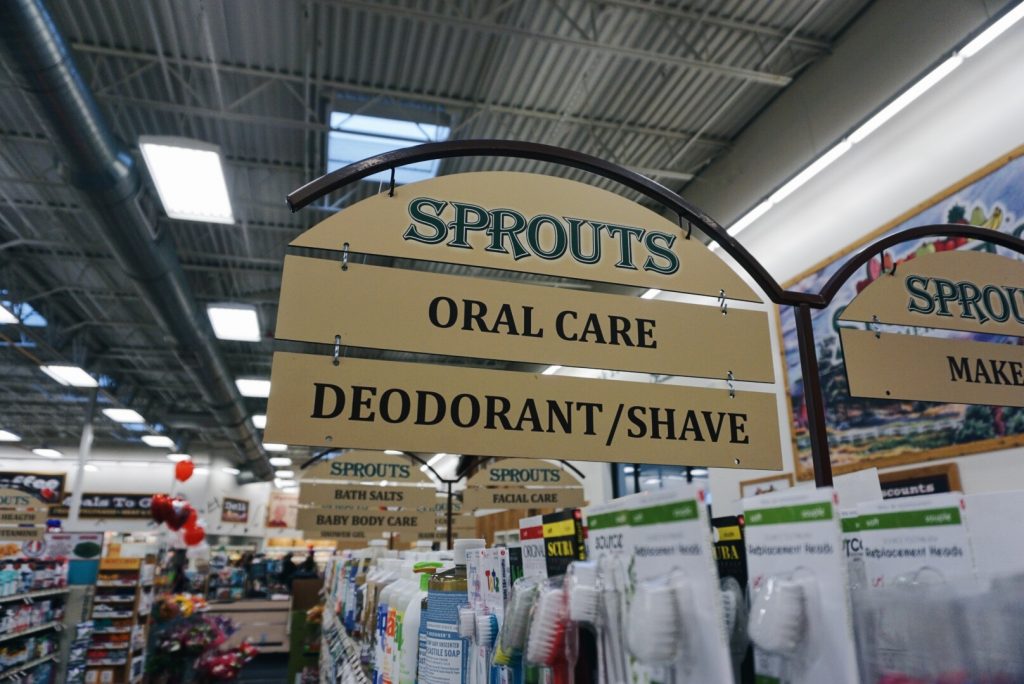 Anything I could ingest had to be gluten free, so oral care was something I spent a lot of time researching. Many companies with oral care products offer some gluten free items, but not their entire line. This was a major concern to me due to the possibility of cross-contamination. This is when I decided to pick up a box of Tom's of Maine toothpaste at Sprouts and read the label. Although the package does not state "gluten free" their website does say "All of the products we currently manufacture are gluten free". I had used Tom's of Maine deodorant in the past and was very impressed with the quality, so I decided to make the switch. Not only do I use Tom's of Maine toothpaste, but I also use their mouth rinse and dental floss.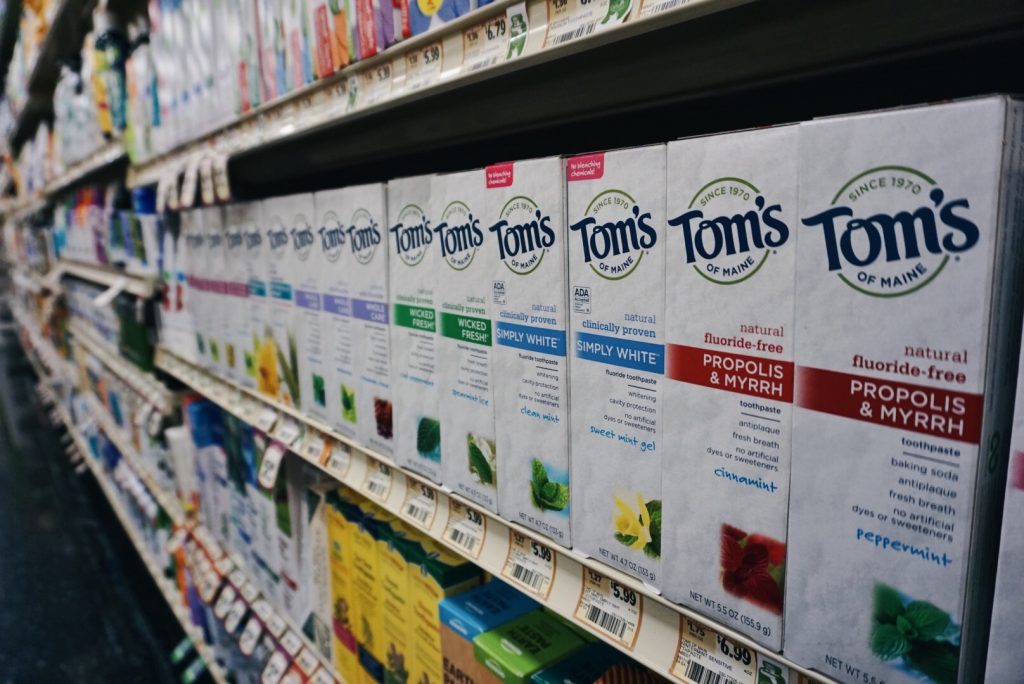 In addition to being gluten free, Tom's has a commitment to a high standard of natural ingredients in their products and a belief that "both human beings and nature have inherent worth and deserve our respect". This closely aligns with my own personal philosophy of environmental awareness and is what makes Tom's of Maine stand out.
Tom's Of Maine Standards for Natural:
 Sourced and derived from nature

Free of artificial flavors, fragrances, colors, sweeteners, and preservatives

Simple and understandable ingredients

Ingredient processing that supports their philosophy of human and environmental health

Free from animal ingredients

Not tested on animals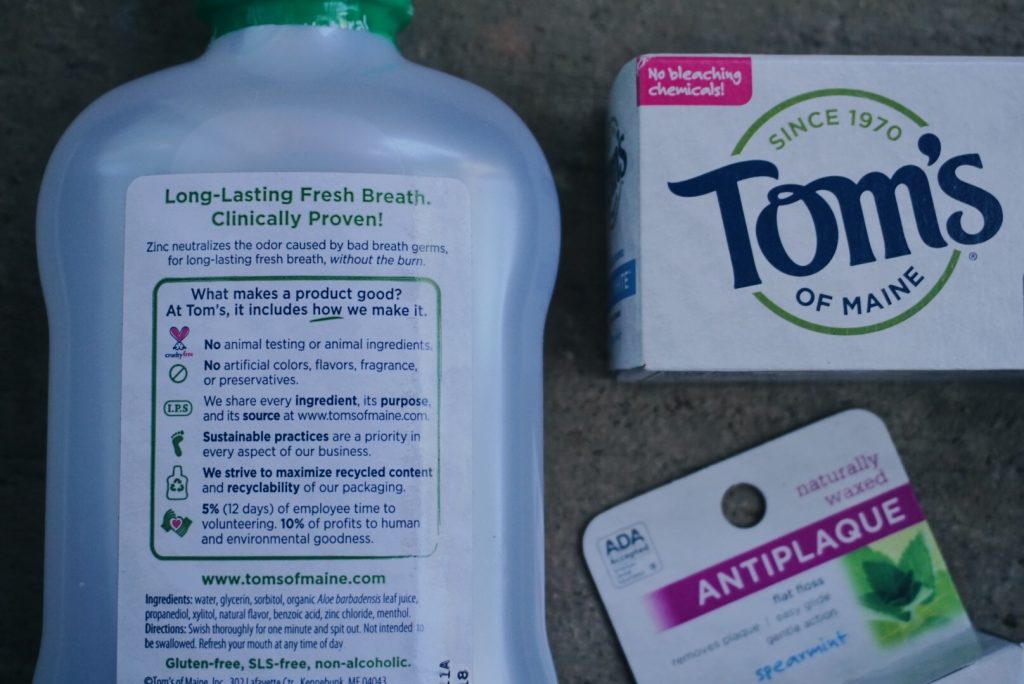 Tom's of Maine Standards for Sustainable:
Originating from recyclable or renewable plant-based resources

Striving to reduce waste through recycled content, recycling, and biodegradability

Promoting the use of sustainable growing and harvesting practices

Our Standards for Responsible

Delivering value to our consumers

Sufficient research conducted to show safety and efficacy

Purposeful in system of ingredients, with complete transparency about the purpose and source of the ingredient

Sourced from suppliers and regions which promote basic human rights

Honesty in all claims made for ingredients, packaging and products

Conform to the requirements of regulatory authorities (Food & Drug Administration and Federal Trade Commission) and other professional organizations with which we have chosen to partner (American Dental Association)
​
Every time I go to Sprouts, I use my free Sprouts App where I check for  coupons. You can download the Sprouts App in the Apple Store or Sprouts App in the Google Play Store and check out special offers for Tom's of Maine natural toothpaste.
Visit Toms of Maine's website for more information
Questions:
Do you use natural products? If so, why?
Do you use any of Tom's of Maine products?