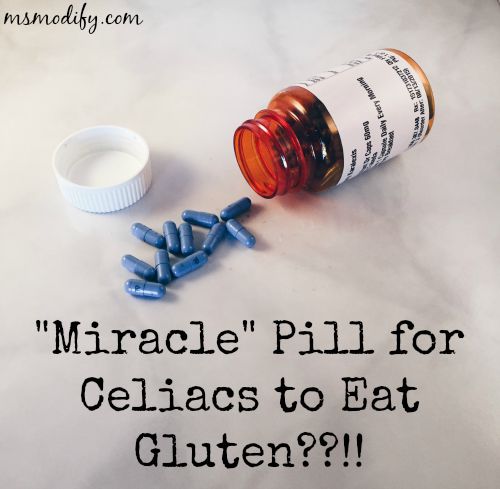 I'm not sure if you've heard all the hype last week about a new "miracle" pill coming out to allow individuals with Celiac to eat gluten. Yup, that's right… scientists in Canada claim that you can soon take a pill and eat your heart's desire of gluten containing food.  (Ohhh… what would my first meal be… lots of bread that's for sure!) Wait a minute… is this too good to be true?? There were countless headlines online last week. Here are a few if you'd like to read them:
No Need to Go Gluten-Free! A New Pill Lets You Eat All the Bread You Want – Popsugar
Scientists Develop Pill That Could Let Celiacs Eat Gluten– IFL Science
'Gluten Pill' Developed To Help Celiac Sufferers Enjoy More Off-Limit Foods– Huffington Post
Some Facts about this Pill:
-The pill has been proven to be safe, yet not proven to be effective yet. (Still in early stages of testing)
-This pill is still 3+ years away from being released
-This is NOT a cure for Celiac disease
-The supplement binds with gluten in the stomach and help to neutralize it, limiting the damage.
My Thoughts:
Even if all these claims are true and there are no side effects, I would NEVER eat gluten again. Knowing that gluten is poison for my body and causes an autoimmune reaction, why would I want to eat it even if a pill "limits the damage"?!
I actually had an appointment with my GI doctor last week (before I read all these headlines) and he did inform me that a pill is entering the 3rd phase of clinical trials for people with Celiac. This pill is an enzyme (similar to Lactaid pills) and he said it is to help with minor traces of gluten (cross-contamination).
My final thoughts on this hot topic is that it would be incredible if I could eat gluten and live a "normal" social life again, however there is no cure for Celiac disease, therefore I will adhere to a lifelong gluten free diet. What I WILL do is when that enzyme is released I will go out to restaurants and order off the gluten free menu and take the pill, helping to avoid cross-contamination. For me, this is HUGE news and I'm so excited to one day (hopefully soon) I'll be able to eat out (off the gluten-free menu) with no stress of getting sick!
Questions:
Have you heard of this "magic" pill to eat gluten?
Would you take it?