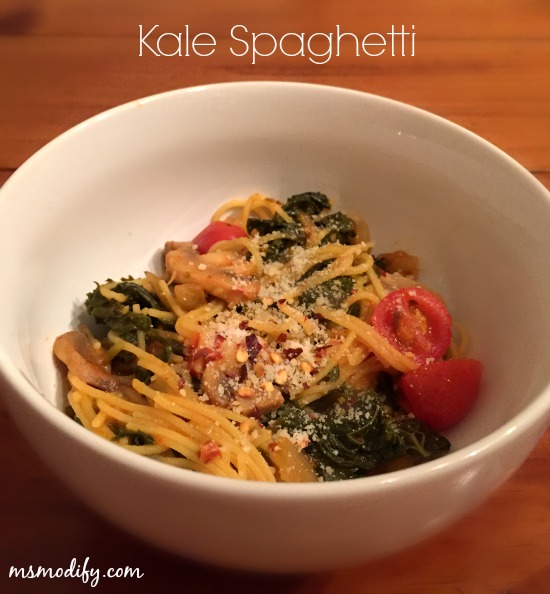 Pasta is something I missed a lot once I got diagnosed with celiac disease. I went a long time without eating it, and then I discovered quinoa pasta. It's my favorite type of gluten free pasta and knowing how healthy quinoa is makes it even better!
You know how much I love a one pot kind of dinner. Super fast, super simple. Here you get your main course and veggies all at once. I love that!
(Serves 4-6)
Ingredients:
1 white onion, chopped
Olive oil
4 garlic cloves, minced
½ tsp oregano
2 bunches of kale, remove stems and chop
Salt and pepper, to taste
½ cup fresh parsley (tightly packed), chopped
1 ½ cups mushrooms, sliced
1 (6 oz) tomato paste
3 cups water
1 cup grape tomatoes, cut in half
2 (8 oz) gluten free spaghetti (I use quinoa spaghetti)
1 Tbsp butter/margarine
Parmesan cheese, to garnish *optional
Chili flakes, to garnish *optional
Instructions:
Drizzle olive oil into saucepan over medium heat. Add onions and garlic. Sauté until halfway cooked.
Add kale and continue to sauté (it seems like a lot, but it will wilt down).
Add in salt, pepper, oregano, parsley and mushrooms. Continue to sauté (the kale will release liquid).
Add tomato paste and water. Continue cooking over medium heat until sauce thickens.
Once sauce starts thickening, add fresh tomatoes and reduce heat to low. Cook until tomatoes soften.
To cook spaghetti: follow instructions on back of the box. Do not overcook (gf pasta makes the water thick and cloudy…that's normal). Rinse pasta and add butter to pot. Put spaghetti back into pot.
Pour sauce over spaghetti. Sprinkle with Parmesan cheese and chili flakes.
Enjoy!
If you're a pasta kind of person you will also love: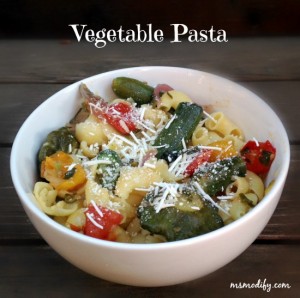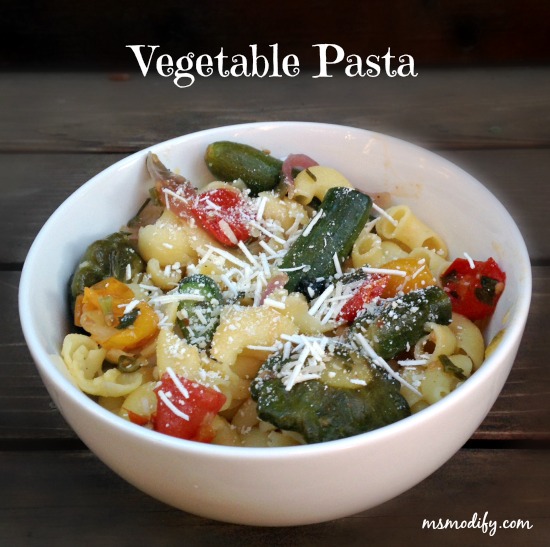 Vegetable Pasta
Or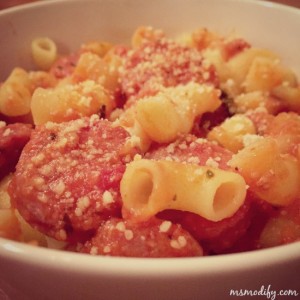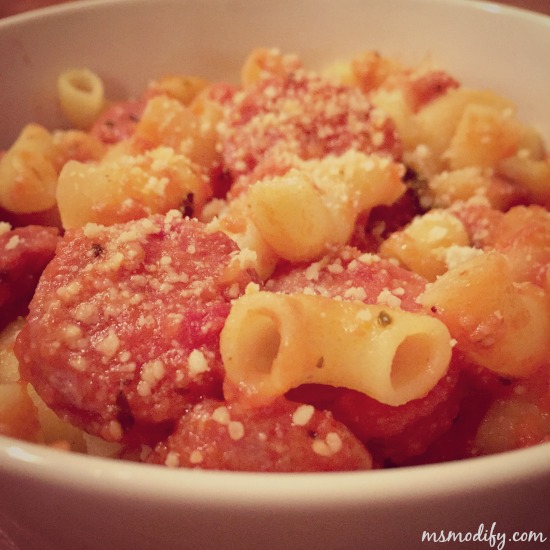 Semi-homemade Vodka and Sausage Pasta