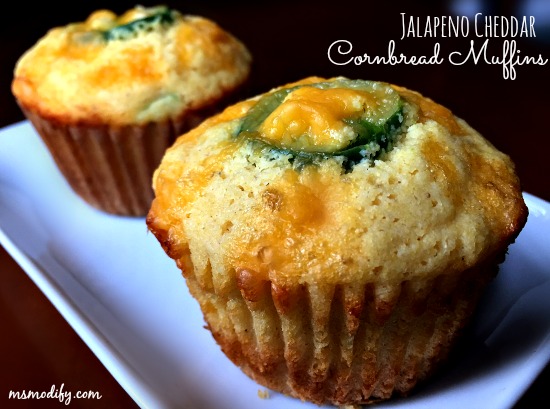 The thought of these make my mouth water! I love cornbread, and then add in jalapenos…yum!
I've tried a few gluten free cornbread mixes that I have not been impressed with. They've all been super dry. When I came across this Williams-Sonoma mix I was super excited! Everything from Williams-Sonoma is great in my opinion.  I just thought I would modify it by adding jalapenos and cheddar cheese… wow I'm glad I did!
This product is a big winner in my opinion!
Ingredients:
1 package Gluten-Free Honey Corn Bread Mix
1 package honey (included in the box)
1 ¼ sticks unsalted butter, melted
1 cup milk
2 eggs
1 jalapeno, seeded and diced (plus more for topping, cut in slices)
1 cup cheddar cheese, shredded
Instructions:
Preheat oven to 400 degrees.
Line a muffin pan with liners. Set aside.
In a large bowl, mix corn bread mix, honey, butter, milk and eggs. Then, add jalapenos and cheese and gently toss to combine.
Scoop batter evenly into muffin tins.
Top with sliced jalapeno and sprinkle cheddar cheese on top.
Bake for 12-15 minutes or until a toothpick comes out clean.
Remove from oven and cool.
Enjoy!