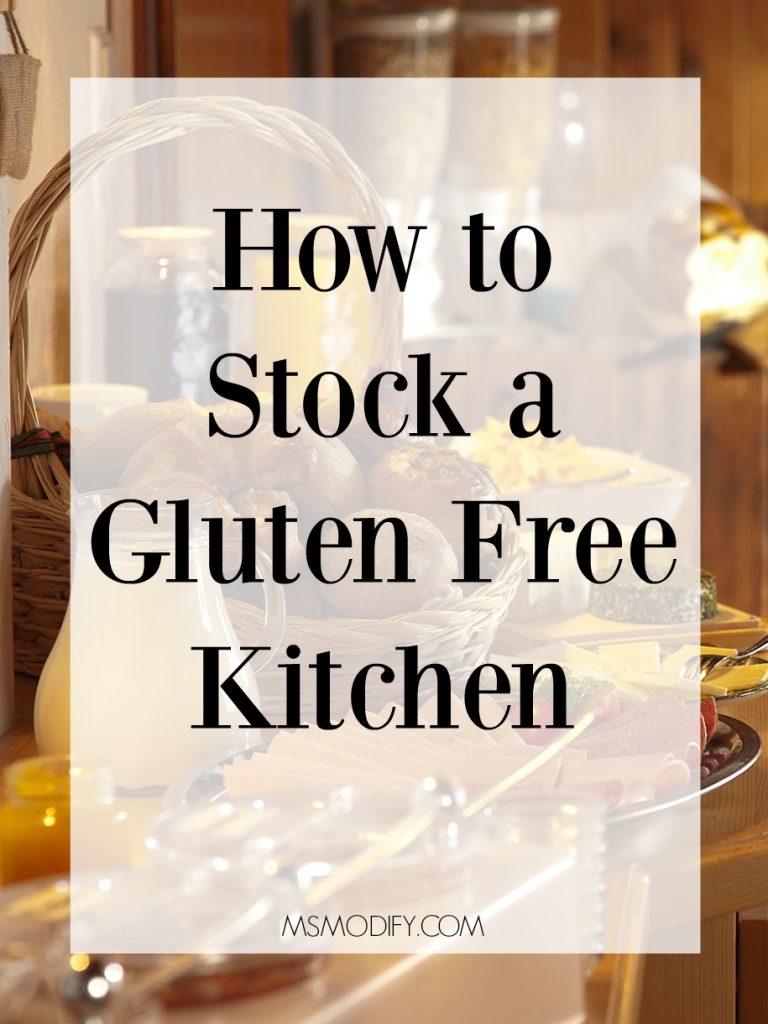 If you're new to the gluten free diet it can be overwhelming at first. All the things you used to love like pizza, pasta and bread are now out- don't panic!
You need to focus on all the great foods you can have and learn to stock your gluten free kitchen.
As with anything associate with living a gluten free life, preparation is key!
There is nothing worse than having an empty kitchen, being tired, feeling defeated on the gluten free diet and tempted to get in the car and pick up some gluten-filled take out! Don't do it!
Before we get started on what you should always keep in your kitchen, be sure you're aware of what you can eat on a gluten free diet!
If your kitchen is always stocked with some gluten free basics you won't have to worry about being caught in that scenario.
I've put together some basic staples you should keep in your kitchen that are gluten free, everything from when you're in the mood to cook, to when you're in the mood to throw a pizza in the oven!
How to Stock a Gluten Free Kitchen:
Fruits and Veggies: Fresh fruits and vegetables are naturally gluten free in their pure form, so feel free to stock up on all your favorites! Be cautious when purchasing pre-cut fruits & veggies because you don't know if cross-contamination occurred on the cutting surface or even with the knife used.
Poultry/Meat: Poultry and meat is naturally gluten free, so as long as you're buying these items in their pure form you are good. Avoid purchasing pre-marinated meat because you can't be sure it's gluten free, it's best to just marinated it yourself. If you're buying bacon, sausage, veggie burgers, etc make sure the package says gluten free.
Fish/Seafood: Fish and seafood is gluten free in its pure form, so once again don't buy anything marinated or stuffed. Also, be aware that most imitation seafood contains gluten in it.
Dairy Products: Milk, most yogurt, cream cheese and pure cheese (I would avoid blue cheese since it can contain gluten) is gluten free. I always make sure I have yogurt in my fridge since it's a good source of protein and probiotics. My favorite brand is Siggi's.
Rice: Rice comes in many varieties and in its pure form is gluten free, just avoid pre-packaged seasoned rice.
Quinoa: Quinoa is my go-to grain! Even though it's naturally gluten free, I always make sure to buy "certified gf" so I don't have to worry about cross-contamination in the fields or during processing. I love to make quinoa like a cold tabbouleh-type salad or use it hot in place of rice.  
Beans/Legumes: Beans and legumes are cheap and offer lots of protein. If you buy them canned, just make sure you don't get seasoned ones just incase they contain gluten. You can always season and spice them yourself.
Nuts/Seeds: Proceed with caution when buying pre-made trail mixes unless it states gluten free, however nuts and seeds in their pure form are gluten free. The issue with nuts and seeds are that many times they are processed/packaged in a facility with wheat, so make sure you read labels!
Gluten Free Pasta: You may have to try a few until you find gluten free pasta that you like. I like Ancient Harvest Quinoa Pasta. It doesn't break apart like many gluten free pastas do and I like knowing it's more nutritious than corn or rice pasta. You should always have gluten free pasta in your pantry for busy days that you need a quick meal.
All-Purpose Gluten Free Flour: If you're new to the gluten free diet, stock up on your all-purpose gluten free flour because I can guarantee you will be baking! Many pre-made gluten free baked goods don't make the cut as far as texture and flavor, so baking is a must. I prefer using all-purpose gluten free flour where you don't have to worry about mixing multiple ones together. My favorite is Cup4Cup where you can literally take any recipe and substitute it for the regular flour.
Protein Bars/Snacks: I always recommend snacking on whole food items (fruits, veggies, nuts, etc) since they are healthier, but come on that's not realistic always. When buying gluten free snack foods make sure you read the label and avoid products packaged/manufactured in a facility with wheat.
Gluten Free Cereal: Cereal is another great staple you should have in your gluten free kitchen. I recommend on sticking to ones that are certified gluten free, as some of the large brands like Cheerios are not safe and I don't recommend if you have celiac. 
Gluten Free Bread/Tortillas: Most gluten free bread is stored in the freezer, so make sure to do the same at home. Bread is something you will most likely have to experiment with at first until you find one you like. Be prepared to try some bad ones! My personal favorites are made from Schar and Canyon Bakehouse. I don't eat nearly as much bread now that I'm gluten free, but it's always nice to have it in the freezer for days I'm in a pinch and need to make a sandwich. I also always keep tortillas around too because I like to mix it up and make wraps. Make sure you read the label and stick to corn tortillas that say gluten free because one time I accidentally bought a blend of corn and flour! My favorite type is the Mission Soft Taco Gluten Free tortillas…with these you will never miss flour tortillas!
Gluten Free Frozen Items: I don't recommend living on frozen meals, however they are great to have when you're in a hurry or tired after a long day. I recommend Amy's Kitchen frozen meals. Just be careful because not all their products are gluten free, so read the label before purchasing. Frozen gluten free pizza is something else I always have in my freezer. This is something else you will have to experiment with until you find one you like. My personal favorite is Freschetta Gluten Free Thin and Crispy Pizza.
Sauces: Gluten tends to lurk in many sauces, so make sure you read labels. For example, soy sauce contains gluten so make sure you only buy gluten free soy sauce. Just because you're gluten free doesn't mean you have to miss out on flavor. Don't be afraid to play around with marinating and using different sauces. You can read a list of gluten free condiments here.
Canned Goods: Canned goods are something else to have when you're in a crunch. As I previously mentioned, avoid pre-seasoned items and look for items labeled gluten free. You can read a complete list of gluten free soups here.
Spices: Since you are no longer going to buy pre-marinated, pre-seasoned items you will need to have your spice rack stocked. You can read find out which brands are gluten free here.
Question:
What's something you always have in your kitchen?