Modifying a classic Greek favorite, without the need to spend time making gluten free phyllo dough… these spanakopita bites are the perfect finger food!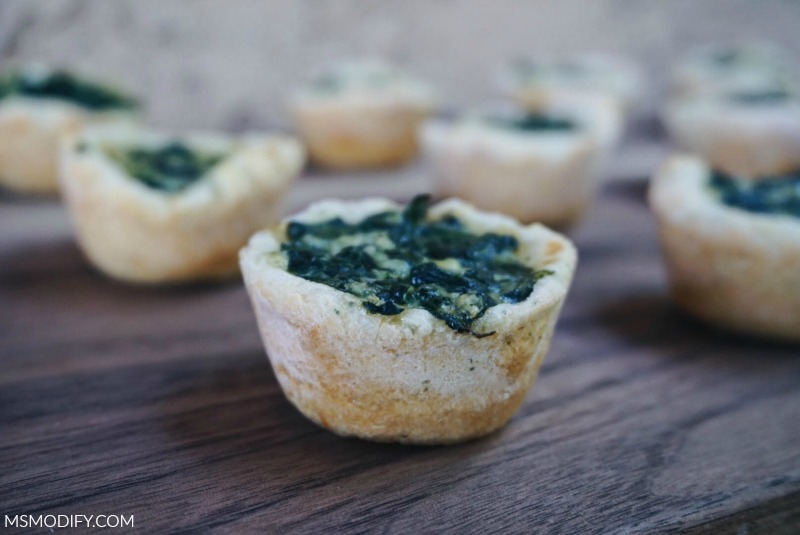 Being Greek, food is a big deal to us! Our family get-togethers center around food, as do holidays and even many of my phone conversations with my mom ("what are you making tonight?"… "Oh, I'm making __"… "How do you make __?"). Food is just a way of life for us! Needless to say, I'm glad that many traditional Greek dishes are naturally gluten free. However, some are not.
Spanakopita (spinach pie) is something I miss dearly since becoming gluten free. I have tried many alternatives to phyllo dough and so far I haven't been happy with any of them. Enter Brazi Bites! I have an obsession with these little Brazilian cheese bread balls. I decided to take my yia yia's spanakopita recipe and modify it by using Brazi Bites in place of the phyllo… and guess what?! It was a HUGE success! I left out garlic from the recipe since I used the garlic asiago Brazi Bites (I recommend you use these too!).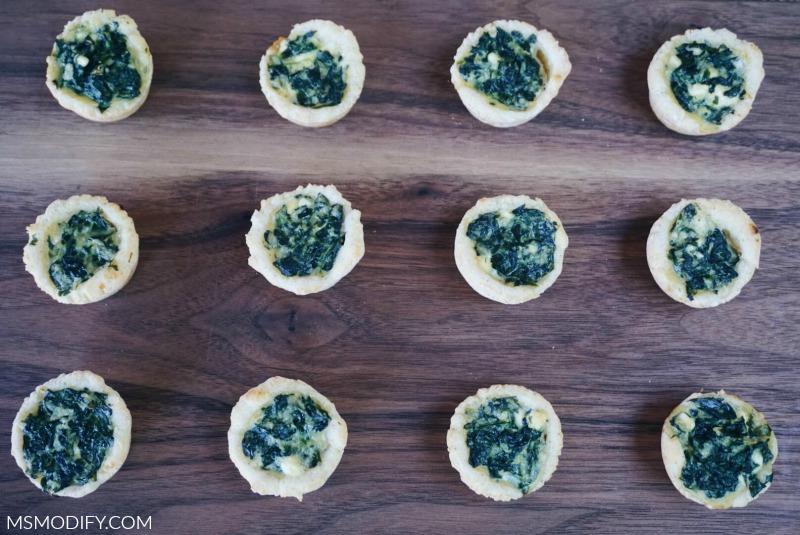 Ingredients:
1 (11.5 oz) bag of Garlic Asiago Brazi Bites, thawed

7 cups baby spinach, stems removed & chopped

1 small onion, minced

2 Tbsp olive oil

Salt & pepper, to taste

¼ cup parsley, chopped

1 ½ Tbsp dill, chopped

2 Tbsp mint, chopped

1 egg

½ cup feta cheese, finely crumbled

⅓ cup parmesan cheese, grated

Gluten free flour, for dusting surface
Instructions:
Preheat oven to 375 degrees

Drizzle olive oil in pan over medium heat, add in onion and sauté 

for about 3-4 mins.

Add chopped spinach to pan and continue to sauté 

for another 5 minutes, or until there is no liquid remaining. Add in salt & pepper to taste.

Transfer spinach to a bowl and set aside to cool.

In another bowl, whisk egg and then add your herbs and cheese.

Add spinach to egg mixture and stir everything together.

Sprinkle work surface with gluten free flour (to prevent sticking) and flatten out one defrosted Brazi Bite. Use the palm of your hand to flatten it out on your work space (turning it over and dusting with flour as needed).

Place flattened Brazi Bite into mini muffin tin and form a cup.

Scoop mixture into cup.

Repeat this process until you've used all Brazi Bites.

Bake for 20 minutes.

Enjoy!
*This post is sponsored by Brazi Bites, however my opinions & the recipe are my own!