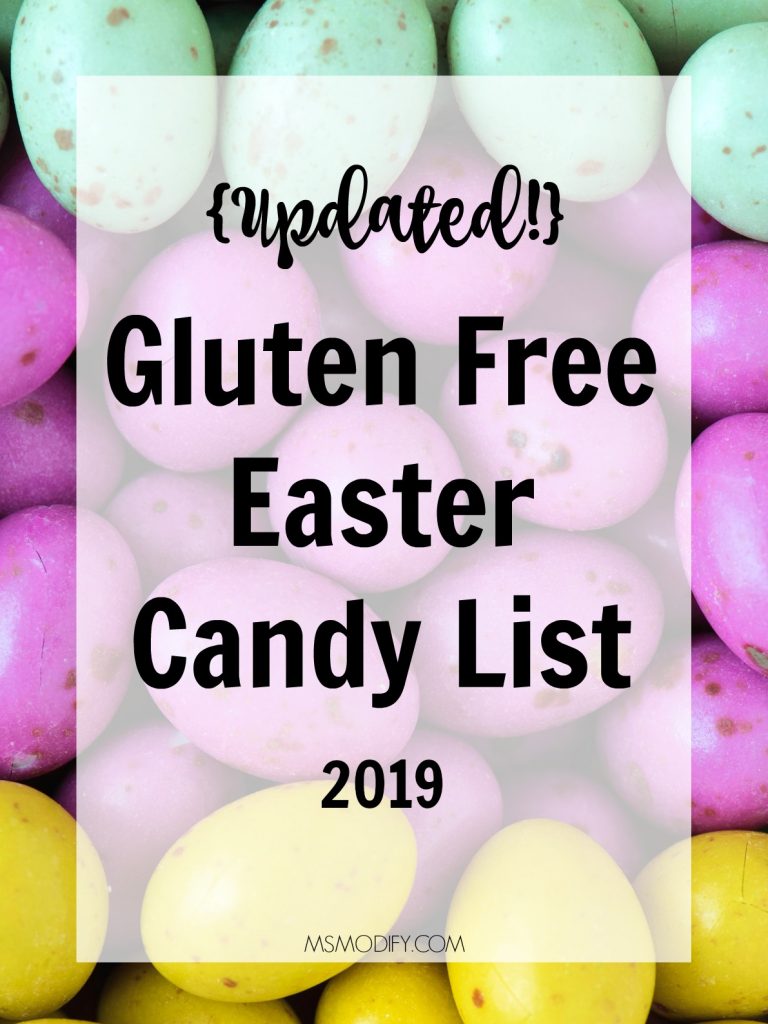 It's that time of year again for another gluten free candy list… this time for Easter! Before you go ahead and fill up your kiddo's Easter basket, be sure to know which candies are gluten free.
I contacted countless companies regarding gluten free Easter candy, and there appeared to be a theme… no one would provide me with a set list because "seasonal candy tends to change" and every company told me they clearly label gluten containing ingredients on their packages. With that being said, I only included candy where I spoke to a representative and they were able to tell me "yes it's gluten free". As always, I recommend reading labels and if you're unsure call the manufacturer to be safe!
The following candy is considered gluten-free to less than 20 parts per million, according to the manufacturers, which makes them "gluten-free". I personally lean on the side of caution and avoid products that are produced in a facility that has gluten in it because of the risk for cross-contamination. But as always, make the choices that are best for you! 🙂
According to the company: "All of our organic gummies and fruit flavored snacks are happily Certified Gluten Free."
In the U.S., Cadbury and Cadbury Easter products are made by Hershey, which does not consider them to be gluten free due to potential risk of cross-contamination.
However, Cadbury Creme Eggs contain no gluten ingredients, and their label states that they are manufactured in a plant that also processes tree nuts and peanuts, but not wheat. I recommend using caution when considering these.
Dove Chocolate Eggs
Dove Solid Chocolate Bunnies, milk chocolate
Dove Solid Chocolate Bunnies, dark chocolate
Easter-themed Dove bars
*Always check the label, as Mars Inc. will mention if major allergens are present in their products or if it "may contain" (chance of cross-contamination).
Plain milk chocolate regular-sized in Easter-themed foil wrappers
*Many Hershey's Easter candy is not considered safe, so stick with the ones above.
All jelly beans and Jelly Belly Easter/Spring themed packages are gluten free. According to the company "All flavors of Jelly Belly beans are free of gluten. We do not use any wheat, rye, barley, or oats in the basic recipe for Jelly Belly jelly beans. The modified food starch listed on the package is cornstarch. We make over 150 different candies and a few of our products use gluten-containing ingredients. These items include Chocolate Malt Balls, Chocolate Deluxe Mix, Seasonal Malt Balls, Licorice Bridge Mix, and Licorice Pastels. Always read the Ingredient Label on packages and bulk bins to see if gluten containing ingredients are present."
Mike and Ike Jelly Beans Assorted Fruits (labeled gluten-free)
Mike & Ike Easter Treats (labeled gluten-free)
Easter Milk Chocolate Candy in Easter Eggs
Plain M&Ms
Solid Milk Chocolate Easter Bunny
Pastel Dark Chocolate Candies
Pastel Milk Chocolate Candies
Pastel Peanut Chocolate Candies
Peanut Butter Chocolate Speckled Eggs
The  Milk Chocolate egg-shaped wrapped M&Ms have a "may contain wheat" warning on them.
*Always check the label, as Mars Inc. will mention if major allergens are present in their products or if it "may contain" (chance of cross-contamination).
According to their website "Our products that do NOT contain "cookies" or "crisp rice" are gluten-free. However, ALL of our products are manufactured on machinery that also manufactures products WITH gluten. *As with these and ALL allergen issues, it is important to read the ingredients statement on each of our products. Product packaging is constantly being updated to comply with all food nutritional and ingredients labeling regulations. Of course, we have procedures in place for our production lines to prevent any cross-contamination of our products."
*So proceed with caution. 
Most are gluten free, but be sure you always read the package because it will say on it.
Peeps that May Contain Gluten (according to the package):
The Large Marshmallow Bunnies
Pink Marshmallow Bunny Pop
White Marshmallow Bunny Pop
Rainbow Pops
Solid Chocolate Bunny
Check the label to make sure it states "gluten-free" below the list of ingredients. Just Born (the parent company) states: "The modified food starch that we use in our candies is corn starch.  However, because some of our products may be manufactured and/or packaged in a facility that may also handle non gluten-free products, we encourage consumers to read the labels carefully for the most up-to-date ingredient and allergen information."
According to their website,  "Candies produced in See's Candies facilities do not contain gluten, and these products are the vast majority of those we sell. We purchase a small amount of specialty candies made by third parties, and these also do not contain gluten with the sole exception of Candy Canes sold in our retail shops and online at Sees.com with wheat indicated on the Ingredient Statement of the Candy Canes."
All Easter-themed Starburst candy, including jelly beans and special Easter candy packages.
Easter-themed Tootsie Roll candy, including Dubble Bubble Easter egg-shaped bubble gum, Tootsie Pops, Charms Blow Pops and Charms Candy Carnival products
According to the company: "At this time, all of our confections are gluten free. We do not use wheat, barley, rye, oats, triticale, spelt or any of their components and that includes our dusting on our conveyor belts. We do use corn and soy products in the manufacturing of our products."
According to the company: "All Wholesome candy products are made without wheat on dedicated gluten free equipment making them suitable for people with celiac disease or following a gluten-free diet. We do random testing on finished product down to 5PPM for gluten. Wholesome Fruit Chews and DelishFish are certified gluten free and carry the GFCO symbol on the package."
The company states: "None of our products contain wheat or gluten. However, our organic Fruit Snacks, Organic Pomegranate Gummy Bears, Organic Licorice and Organic Sour Twists are manufactured in a facility that also manufactures products with gluten and wheat on shared processing equipment."
This list is for the US. If you're in another country, please contact the manufacturer first.

This list was updated 4/20