Hello Friday, oh how I've been looking forward to seeing you again!
As most of you know, last weekend I went to the Celiac Disease Foundation Conference and Gluten Free Expo (CDF Expo)… and as always I came home with a huge goodie bag filled with new gluten free products!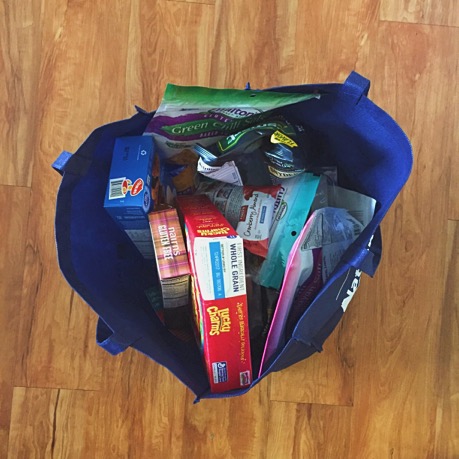 Not only did I leave with treats, but I also sampled SO many there at the expo! I went through the bag very carefully and decided to share with you my five favorite products!
1. Lucky Charms: So I know last week when I shared my go-to gluten free products I said I'm not a fan of mainstream cereal going gluten free, due to the possibility if cross-contamination. Okay I admit it… I take those words back! I learned this year at the expo that these large companies are taking extra careful precautions to ensure their products are gluten free. When I saw all the kids there running with excitement when they saw GF Lucky Charms it warmed my heart. Kids living on a gluten free diet often feel left out and have a hard time adjusting, so if they can eat Lucky Charms like their friends do I'm all about that!
2. Enjoy Life Soft Baked Chocolate Cookies: Often times store-bought gluten free cookies are really hard…like tooth breaking hard! When I tried these soft baked cookies from Enjoy Life I was shocked, they're literally SO soft! In addition to being gluten free, they're also dairy free, nut free and soy free. I've never tried these before and now I will buying them on a regular basis!
3. Cream of Rice Instant To-Go Cups: I'm always looking for quick breakfast ideas for when I'm on the go. The box of Cream of Rice is something I have in my pantry but it's not the ideal breakfast when I'm in a hurry, so when I saw these to-go cups at the expo I was so excited! I tried the berry flavor and it's so good… and take less than 2 minutes to make! They informed me these should be on the shelves of grocery stores in the next few weeks, so keep an eye out!
4. Milton's Green Chili Salsa Baked Chips: I've been a big fan of Milton's crackers for a while now, so when I saw they're now making chips I had to make a bee-line for their booth! You all know I'm a sucker for chips and these did not disappoint me! They have different flavors from sea salt, cheddar cheese to different chili flavors. These chips are certified gluten free, nut free, dairy free, soy free and egg free!
5. Vans Snack Bars: I literally always have snacks in my purse, so these are the perfect addition to my bag! These bars are soft and contain 10 grams of whole grain, as well as are certified gluten free and non-gmo. Vans has 7 different types of snack bars and can be found in the gluten free section of large chain grocery stores. 
If you have a favorite gluten free product that I need to try, please let me know!
I hope you all have a wonderful weekend, and Happy Mother's Day to all you amazing mamas out there!
Today I'm linking here, here, here and here!