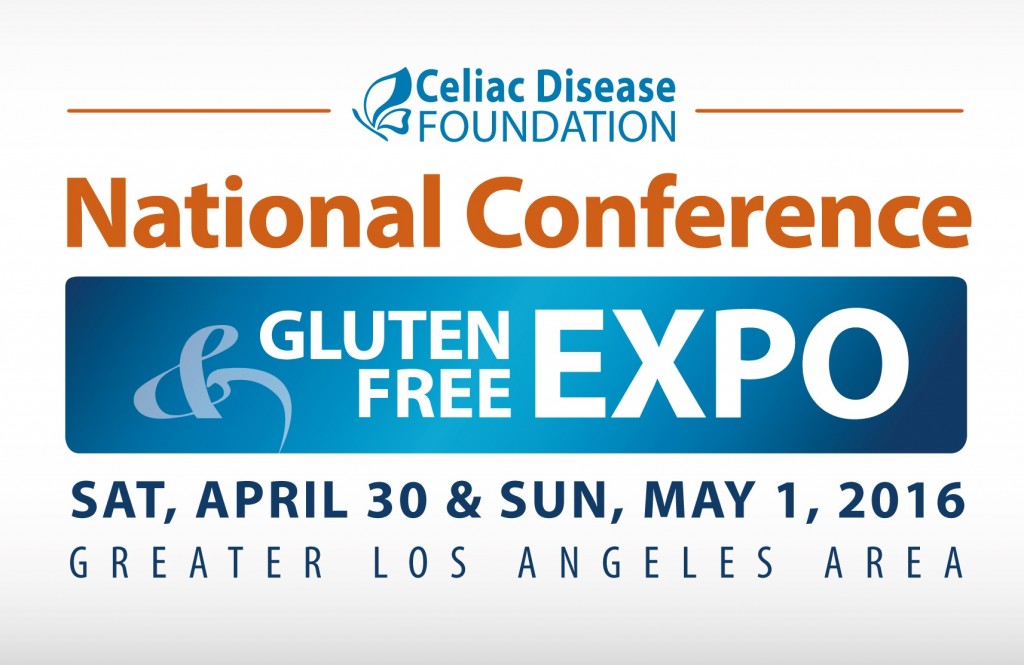 If you're in Southern California and either have Celiac/gluten sensitivity or just eat gluten free… then you need to attend The National Celiac Conference and Gluten Free Expo! It's coming up the end of April and let me tell you, it never disappoints!
You can register Here. You can either attend just the conference, just the gf expo or both! Early bird pricing ends this Friday!
This will be my 5th year attending and I always leave feeling empowered about my illness and with a HUGE bag a gf goodies from the expo! Just be prepared, it's a long day! This year they're serving lunch again, so come hungry because you will stuff your face with a delicious gf breakfast and lunch…not to mention all of the samples!
If you attend both events, you get the privilege of hearing leading experts in the field speak, everything from medical research to companies sharing new gf products. As a always say, just know you're going to hear the good, bad and ugly regarding our illness… but knowledge is power!
The agenda for the event is:
7:30 am to 8:30 am     BRIGHT AND EARLY: Registration and Gluten-Free Breakfast
8:30 am to 9:00 am     WELCOME: iCureCeliac, Patient-Centered Outcomes Research and Other Big News for 2016
9:00 am to 10:00 am     GLUTEN EXPOSED: The Science Behind the Hype and How to Navigate to a Healthy, Symptom-Free Life
Peter H. R. Green, MD,  Celiac Disease Center, Columbia University
Rory Jones, MS, Barnard College
Cut through the misinformation, false claims, and widespread confusion over gluten and learn the science behind the current gluten-free craze and examine the food-brain-gut triangle to reveal what's really going on in our bodies and our brains.
10:00 am to 11:00 am     GLUTEN-FREE EXPO HALL: VIP Tour
11:00 am to 12:30 pm     DEPRESSION, ANXIETY AND ADHD: The Psychological Challenges of Celiac Disease and Gluten Sensitivity
Mi-Young Ryee, PhD, Children's National Health System
Shayna Coburn, PhD, The Johns Hopkins School of Medicine
The need for strict adherence to a gluten-free diet can cause severe stress on families and social relationships, and can contribute to a sense of social alienation, feelings of worthlessness, low self-esteem, and depression. Learn how to identify and cope with the daily challenges that celiac disease and gluten sensitivity present.
12:30 pm to 2:00 pm     DINE WITH THE DIETITIANS: Trends in Gluten-Free Nutrition
2:00 pm to 3:30 pm     PILLS, SHOTS AND TESTS:  Is Strict Adherence to a Gluten-Free Diet Enough?
Daniel Adelman, MD, University of California, San Francisco
Michael Cooreman, MD, ImmusanT
Peter Green, MD, Celimmune
Kristin Yarema, PhD, Amgen
Stan Naides, MD, Quest Diagnostics 
Annette Taylor, PhD, LabCorp
What does it take to get a therapy to market? How often should you be monitored for gluten intake? Do your relatives need to be tested? Will there ever be a cure? Our distinguished panel of experts share with you the powerful progress being made to protect you from accidental gluten exposure, and the hope for a cure.
3:30 pm to 5:00 pm     PATIENT-CENTERED OUTCOMES RESEARCH: Solving Celiac Disease Together
Then the expo hall is open Sunday from 10:00-4:00pm
If you have any questions about the expo, email me at msmodifyblog@gmail.com or write in the comments section!
I hope to see you there!