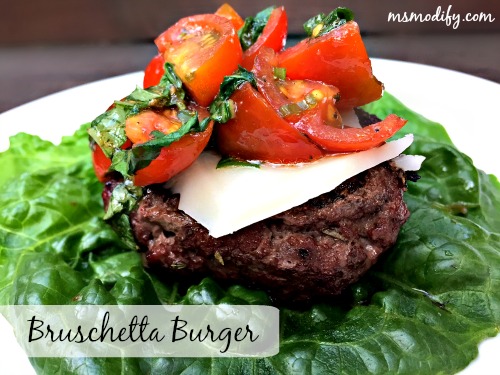 I'm not a big red meat eater, but when I do I love a good grilled burger! Feel free to make these with a turkey or veggie patty as well.
These bruschetta burgers came to me one night when I was going to make bruschetta as an appetizer and then burgers and salad for dinner. I'll be honest I was feeling a little lazy so I decided to cut out the appetizers and salad and just combine them to make bruschetta burgers. Wow am I glad for once that I was lazy because these came out so good!
This is our new favorite way to make burgers!
This makes 4 (1/2 pound) burgers
Ingredients:
2 pounds ground beef
2 Tbsp ground oregano
4 thick slices of fresh mozzarella
1 cup of cherry tomatoes, cut in half
1 green onion, diced
6-8 basil leaves, finely chopped
2 Tbsp olive oil
2 Tbsp red wine (or balsamic) vinegar
Salt & pepper, to taste
¼ tsp garlic powder
Gluten free buns or lettuce to serve on
Instructions:
Combine tomatoes, green onions, basil, olive oil, vinegar, salt, pepper and garlic powder in a bowl and mix together. Set aside and let marinate.
Preheat your outdoor grill to medium-high heat.
Combine ground beef and oregano. Divide mixture into four sections and make four patties. Press center down a little on each patty.
Add your burgers to the grill and grill to your desired liking (I do about 6-7 minutes on each side).
Remove patties from grill and place either on a gluten free bun or a piece of lettuce. Top with a slice of mozzarella cheese and then the bruschetta mixture.
I hope you love these as much as I do! Enjoy!