I'm beyond excited to share this with you! I've traveled a lot throughout the country and let me tell you, Austin is by far the best city I've been to for gluten free options! Yes, Texas! Shocking I know! I had that same reaction. Since this was not our first time there, I was super excited to eat my way through Hill Country! 🙂 I documented all my favorite food finds along the way to share with you.
Here you go:
Austin:
Wild Wood Bakehouse: Hands down my favorite 100% gluten free place ever (regardless of location). We ate here three times in three days (that's how good it is)! It is 100% gluten free, so I could enjoy everything without the fear of cross -contamination. A few things we got were:
Cheeseburger on focaccia bread with sweet potato chips. The bread was so soft! First time I've had a burger like this (with a good bun) in a long time.
Grilled Chicken Salad. This was huge and delicious. I couldn't even finish half of it! I recommend the honey ginger dressing.
Carrot cake cupcake. Yum!
Chocolate covered macaroon.
Onion Rings. Yes, that's right onion rings!! First time I've had onion rings in almost four years. These were so good, we got them twice!
Turkey and cheddar sandwich on white rice bread with fries. This bread was so good too!
If you live or go to Austin, you have to go Wild Wood Bakehouse (it's located right next to the campus)
Maudie's Tex-Mex: We ate here last time we were in Austin, so I was really looking forward to it! They have a few of them throughout Austin. We go to the one in Bee Cave, next to the Galleria. The owner's daughter has Celiac, so they take cross-contamination very serious and have a separate prep/cook area.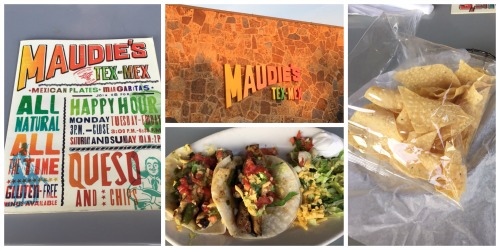 How awesome is it that they bring out gluten free chips in a sealed bag?! I've never seen that before and absolutely love it! I had the fajita tacos (don't mind the bite… I couldn't resist before I took the picture!). This place is a must!
The Salt Lick BBQ: If you've ever been to Texas, this is a place I'm sure you've heard. Now this is BBQ!! The line was wrapped around the building just to put your name in for a table. Something that cracks me up about Texas is that many places are BYOB, so you'll see people with coolers going into restaurants! The Salt Lick also has vineyards and a winery, so Erik and I went wine tasting while we waited for our table.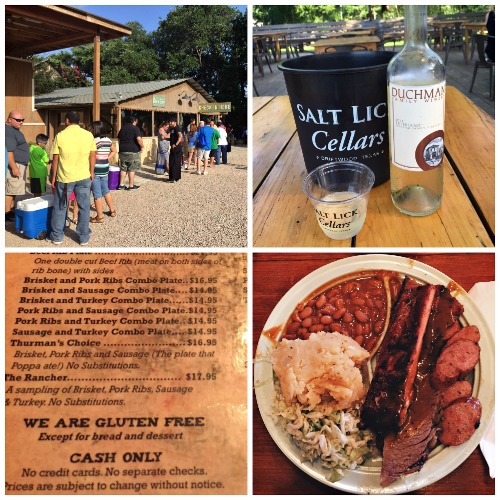 As you can see on the menu, everything is gluten free expect the bread and dessert. The bread they do not make there so there is little chance of cross-contamination (the waitress told me it's kept in a different area) and the dessert is made on the opposite side of the restaurant. The kitchen is in the center of the restaurant so you can see everything being made. The food needs little explanation…basically it's the best BBQ ever!
Sweet Ritual: This is a super cool ice cream parlor in an artsy part of town. They have gluten free, dairy free and vegan options. We were advised to get the coconut soft serve due to no cross-contamination. They even had sugar cones! The gluten free cones are not made on site, so no cross-contamination is possible.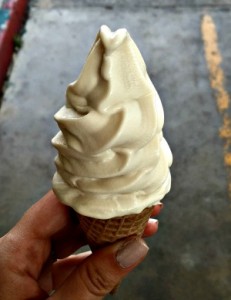 San Antonio:
The Little Aussie Bakery and Café: In my opinion, the best gluten free place in San Antonio. I knew about this place because once when I was researching "best gf bread" this was named. They ship their products nationwide! I have ordered their bread in the past and love it! Everything here is gluten free, so no need to worry about cross-contamination.

The first time we went here (on our last trip), we drove past it because it's a little house on the back side of a street. I'm so glad we found it because it's so good! I ordered a pizza and carrot cake. On the weekends they have lamb pies and lamb sandwiches (I tried them last trip). I guess that's popular in Australia (where they are from) and they were both delicious!
Aldaco's Mexican Cuisine: I found this place on my gluten free restaurant finder app and am so glad I did! They reassured me that they take gluten free serious and they have separate prep areas. In addition, the cooks preparing gluten free meals wear gloves and everything is cooked in dedicated gf pans.

The salsa was my favorite here! I ordered the fajitas and they were very good.
As you can see, I ate my way through Austin and San Antonio!! The thought makes me hungry again! 🙂 If you have any favorites that I missed, please comment and share!