Summer means fresh tomatoes and ripe avocados. Add basil and balsamic vinegar in the mix and you have a perfect afternoon snack or appetizer for a summer party.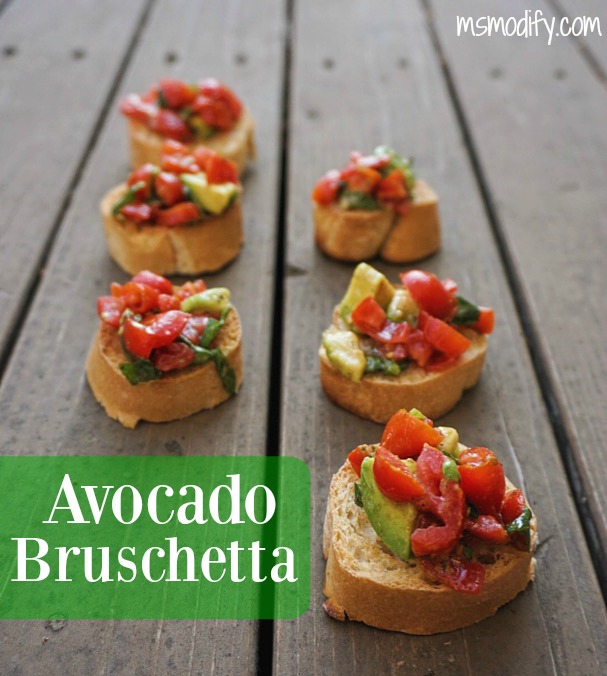 Bruschetta is my favorite. During the summer months when tomatoes are so ripe where they burst when you cut them, it automatically makes me want to make bruschetta. I don't even need the bread. Give me a big bowl of the mix and I'm one happy girl.
I put a twist on the classic favorite, adding in avocado and let me tell you… best decision ever!
Ingredients:
1 Acocado, chopped
6-8 basil leaves, chopped
2 tomatoes or 1 pint of cherry tomatoes, chopped
1 green onion, chopped
2 Tbsp olive oil
2 Tbsp balsamic vinegar
1/4 tsp garlic powder
salt & pepper, to taste
1 gluten free baguette (I use Schar)
Instructions:
Preheat oven to 400 degrees. Cut baguette into 1/2 inch circles and place on baking sheet. Lightly brush each piece of bread with olive oil.
Toast until lightly browned (about 3 minutes per side).
Place avocado, tomatoes, basil, green onion, balsamic vinegar, olive oil, garlic powder, salt and pepper in a bowl and mix together.
Spoon about a Tbsp of bruschetta mix onto each piece of bread and serve immediately.

Enjoy!
If you like this, you will also like: